Sign up for a Free 30 Day Trial of G Suite Business and get Free Admin support from Google Certified Deployment Specialists.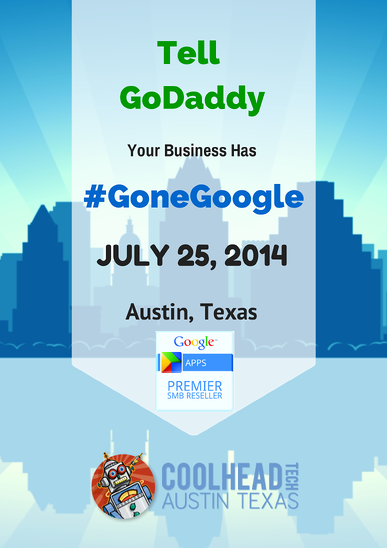 Summer is a great time for businesses to switch to Google Apps, especially businesses in Central Texas. This month, we're specifically helping GoDaddy customers move Gmail for Business so they can gain collaboration tools like Google Drive, Calendars, Docs and Spreadsheets. As a Google Apps Premier Partner we're dedicating Google Certified Techs and Google Trainers to helping Small and Mid-size businesses upgrade from GoDaddy Email.
1. Google Certified Techs Move Everything for you to insure continuous Email flow.
Coolhead Techs are authorized and certified for Google Apps moves like from #GoDaddy.. As a Google Partner with Premier Status we have a proven track record of success in helping businesses small and large not only move to Google Apps but do more collaboratively online.
Move to Google Apps in 15 Minutes. - Answer a few quick questions from a local Google Apps Administrator and Coolhead Tech will take care of everything for you. Since we're local in Austin, we can come to your office or set everything up remotely.

2. Keep Outlook and do More with Google Apps.
Outlook works great with Google Apps! With Google Apps Sync all of your mail, calendars and contacts are synced automatically with Google. You can keep your folders, flags and plug-ins. With the new Google Hangout plugin for Outlook you'll have the added ability to have a video or voice call or conference call.
3. FREE Setup, Training and Networking Party on Moving Day - Friday July 25.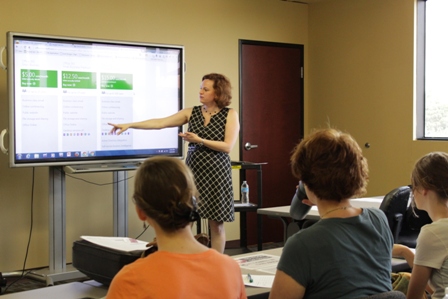 Join Our GoDaddy customer training session on the Friday you Go Google. Come to our training location (just off 35N/290E) to meet with our Google Apps Trainers and Google Apps Admins who'll guide you through the final steps of switching from GoDaddy to Google Apps. If you can't make it in person, you can join the Live online webinar or a pre-recorded session.
Learn Gmail, Calendars and Google Drive in a fun, relaxed atmosphere
Bring your Laptop, phone, tablet and other Gadgets - Techs will set these up for Free.
Meet other Business owners, managers and users making the switch from GoDaddy to Google Apps.
Click Below to Switch your Business Email from GoDaddy to Google Apps with Gmail for Business.