Sign up for a Free 30 Day Trial of G Suite Business and get Free Admin support from Google Certified Deployment Specialists.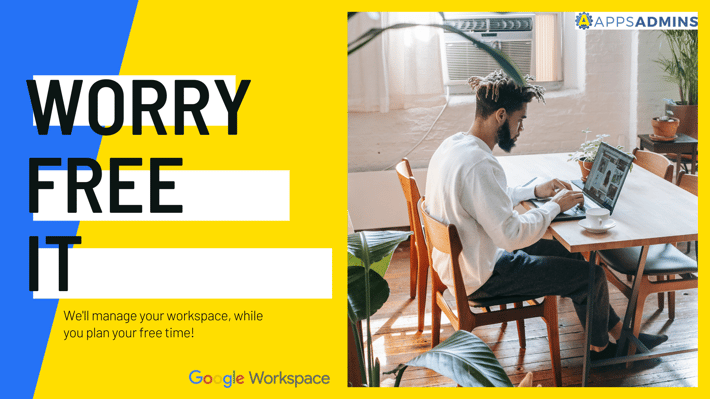 Managed Services is the process of outsourcing some day-to-day management or services at a company as a way of accessing a higher level of professionals than a company may be able to afford, as well as cutting operating costs within an operation.
Managed services in the IT realm is like having an entire IT staff (for hardware and software) at your disposal, but not on the payroll, nor in your P/L and CapEx budgets.
The provider of services is called a Managed Services Provider, or MSP. Popular in Fortune 500 companies, the concept is now being employed at government agencies, and SMEs, or small and medium enterprises; it is an especially smart approach for smaller companies and start-ups with smaller IT budgets.
What can a Professional Managed Service Provider do for your business?
In the IT realm, they can implement and manage your online presence in the cloud, making sure the data you need for your business is secure transferred to the cloud, maintained and available 24/7 with virtual guarantees of virtually no downtime.
A managed service provider can configure and manage your Google Workspace, providing the latest productivity tools for every employee of your business, applications designed to be available wherever your employees have internet access, as well as providing seamless integration of the various Google Workspace, so your colleagues and co-workers can collaborate on documents and projects. Google Workspace include great tools that most of your employees are probably already familiar with, creating an easy transition. Apps like Gmail, Calendar, Meet, Cloud Storage, Docs, and Google+ are pretty much hardware agnostic, so your employees will be able to access important data on the fly, as well as in the office.
If your business relies on its online presence, a managed service provider might recommend and implement a software application like HubSpot. HubSpot is an online content optimizer, and essential tool for companies needed a professional online image. With HubSpot, you can create, push, and manage compelling content to the web, and manage your email marketing. Integration with all of the current social media tools is a great feature of HubSpot, and you'll have a centralized "command post" to use the most desirable social media sites online.
Perhaps one of the best features of HubSpot is its ability to provide you with up to the minute, real time analytics on your online presence, enabling you to see what's working, what's not, and how to revise sites to attract and retain more visitors.
As a small or medium business in growth mode, it's important to have the latest technology while minimizing your CapEx and operating costs, and a professional MSP like Apps Admins can help you accomplish that on many different levels.