Sign up for a Free 30 Day Trial of G Suite Business and get Free Admin support from Google Certified Deployment Specialists.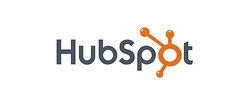 Have you ever wondered how companies with a complex online marketing presence manage to maintain their social media accounts, their inbound marketing, or deliver content to their various webpages and blogs? How about managing to get their page optimizations working for search engines, along with natural keyword integration?
One way to do it is by manually managing all of these channels, through long man hours and at costs that can range in to the thousands. Then there's a smarter way that more and more companies are discovering daily. Managing their online marketing and content delivery strategies through one simple tool that consolidates all of their efforts.
That tool is HubSpot. The internet's number one consolidated marketing platform, and our current Business App of the week.
What is HubSpot?
HubSpot can take you from building a presence and distributing inbound marketing, right up to converting leads and closing sales. The software allows you to consolidate channels like Facebook, WordPress, Twitter, Google + and more, giving you the power to update and share your marketing content from a single management platform. The complexities of managing a multitude of social networks and websites are simplified, and your business can focus its marketing resources on the important things, like creating outstanding content.
HubSpot Will Help You to Create Standout Content That Gets You Noticed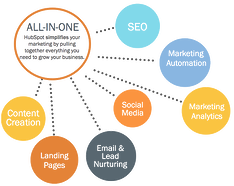 Beginning with your webpage and continuing through to your blog posts and social media updates, HubSpot can help you to provide the right content that will be seen by consumers. SEO content becomes easy to create, helping you naturally gain rankings in the world's largest search engines. Relying on elements of key word optimization and targeted content, SEO is a discipline that some companies pay hundreds, if not thousands for. HubSpot gives you the tools and assistance along with helpful information and free training materials to understand SEO and how you can apply it to your content.
Your Social Media Presence Becomes More Effective with HubSpot
Social media is a great way to raise awareness of your brands and engage your customers. Keeping on top of all of your social networks can be time consuming and confusing as you juggle from account to account. HubSpot gives you control from one hub, allowing you to push simultaneous updates, or specialized content for individual social networks.
HubSpot Provides Powerful Tools to Track Your Progress and Capitalize on Leads
In traditional marketing businesses rely on analytics and case studies to measure the effectiveness of their advertising, while gaining valuable insights in to leads and how their customers are thinking. HubSpot provides the same kind of data without the necessity for expensive consultants and complex studies. Get analytics from your social media pages. Find out who is viewing your content, and which of your products or services are generating a buzz. The powerful reporting tools included with HubSpot can take businesses from blind and reactive marketing, to ongoing campaigns that will produce real results seen in closed sales.
Control All Aspects of Your Marketing Strategy
Whether you need to segment leads based on their interest in your product lines, or optimize a page for efficient mobile viewing, HubSpot can help you find success. From email distribution management to timed automations that push updates or follow up with prospects, HubSpot can do for your business through one interface what an entire dedicated marketing department could take weeks and months to achieve.
If you're in business today, there's no way to ignore online marketing. HubSpot takes away the complexities while giving you industry leading tools to make sure that your marketing efforts are a success. The best thing is that you don't need to be a marketing genius to make use of HubSpot. Companies ranging from startup home businesses to large enterprises are seeing the value in HubSpot as more and more make the switch today.
When you want to succeed in business, and in marketing that business, there's no better way to do it than with HubSpot.