Sign up for a Free 30 Day Trial of G Suite Business and get Free Admin support from Google Certified Deployment Specialists.
I received this great question from a customer about Gmail's spam folder.
How do I get spam to delete having to go do it myself?
Great spam filtering is one of the more popular reasons a lot of businesses switch to Google Apps in the first place. The average office worker can spend upwards of 20 hours a year just on spam.
There is, of course, the spam folder in Gmail and the "junk e-mail folder" in Outlook. Sometimes spam filters work too well. Does "Check your junk folder" sound familiar? I would never want to automatically delete spam messages in Outlook—most of them were real.
Gmail's spam filtering is better. Thespam filtering technology in Gmail and Google Apps also filters the good mail so there is a significant reduction in false-positives.
With the confidence in knowing that you're using the best spam filtering technology in the world it's safe to send messages directly to the trash.
Here's How to Send Spam Directly to the Trash in Gmail:
In Gmail, select a message, any message (it does not have to be spam) and click the more button.
Updated: If you're Logged into Google Apps just Click Here to open the Gmail Filtering window.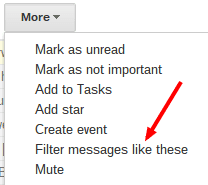 Select "Filter messages like these"
Clear out any text. Type "is:spam" in the field that says "Has the words." Click Continue.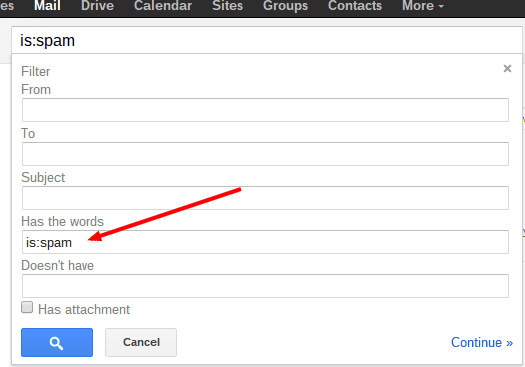 You'll get a warning message "Filter search containing.....Do you still wish to continue to the next step? Click OK
Check the following Boxes: "Skip the Inbox (Archive it)", "Mark as read" and "Delete it". Leave everything else un-checked.
Click "Create Filter" and you can forget about the spam folder forever.