Sign up for a Free 30 Day Trial of G Suite Business and get Free Admin support from Google Certified Deployment Specialists.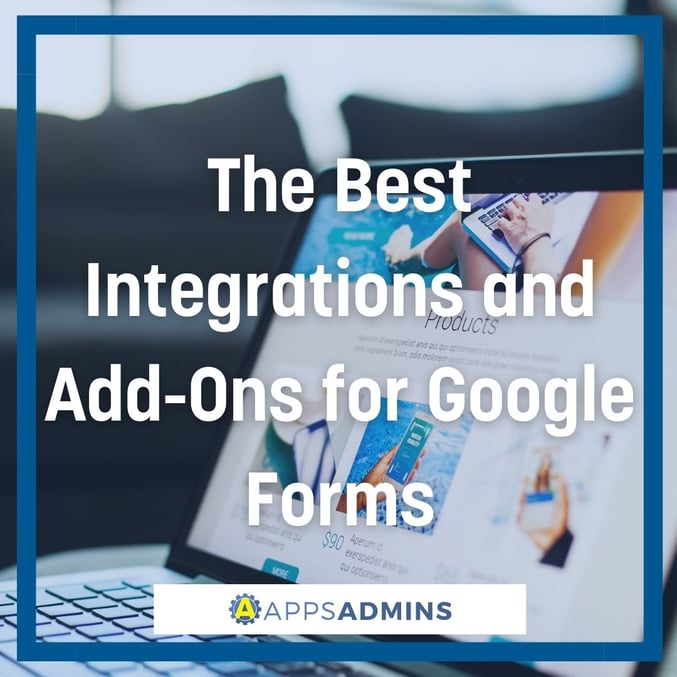 G Suite integration apps are meant to help businesses to streamline their workflows. Google holds the annual G Suite Integration Awards every year to recognize outstanding G Suite apps that can enhance the user experience.

This year's nominee list comprises impressive apps that are designed to enable users to work with Forms effortlessly on Google. With winners expected to be named in January, these are the nominees for the Best G Suite Integration Apps for 2020.
Form Notifications by Google Cloud
Integrating Form Notifications by Google Cloud enables you to create and configure all your email notifications for Form respondents and response thresholds. With it, you can conveniently set emails delivered in real-time as individuals make their Forms submission.
Notifications, including Google Forms data, can be quickly sent to your email address as soon as other users make their submission. What's more, you can customize email notifications besides designating different email addresses also to receive notifications.
Form editors and owners can configure messages delivered to you, the creator of those Forms, as well as other collaborators on preset response thresholds. Currently, Form Notifications by Google Cloud has an incredible 7,072,879 users, with most of them giving it 5-star reviews due to its convenience and ease of use. The app has an average rating of 4 stars on the G Suite App Marketplace.
Form Publisher
Converting Form submissions into different formats can be quite a hassle. Often, many people end up with disorganized data in Google Forms. However, this is likely to be a thing of the past, thanks to G Suite's Form Publisher app. The app helps you turn your Form submissions into Sheets, PDF, Slides, Docs, and any other format.
This way, you can effortlessly work on different platforms depending on the needs of your project. Likewise, Form Publisher enables you to make your data more accessible, easier to present, and shareable. It not only helps you to convert Forms into Google documents, but also enables you to convert them into Ms. Office files such as PowerPoint, Excel, and Word.
Form Publisher has rave reviews with users praising its simple layout and ease of use. The app has also been praised for its ability to help users access their forms quickly. It has 6,874,475 users, and an average rating of 4.3 stars from 933 reviewers.
Form Approvals by Google Cloud
There is no better way of turning Google Form submissions into interactive approval workflows than using Form Approvals. This G Suite integration app is designed for use in organizations of all sizes. With it, you can automate workflows, control the speed of work, and gain essential insights that help senior management in decision-making.
Within minutes, you can use Form Approvals to create forms for capturing date requiring approval, assign approvers, and also set the appropriate approving order. Form Approvals is a free app, but depending on your usage, you may incur some cost.
Reviewers point out that it comes in handy in automating business processes besides being easy to set up and use. Form Approvals boasts 3,127,089 and an impressive 4.8-star rating from 764 reviewers.
Smartsheet for Google Forms
This powerful G Suite integration app allows you to create Googe forms to help requests, accept event registrations, survey responses, and directly send them to Smartsheet. With this app, it's easy to create a collaborative culture at the workplace since it enables you to attach files to multiple rows besides setting reminders and progress reports across multiple sheets.
Smartsheet for Google Forms is a free app that has attracted rave reviews for its flexibility. It automatically detects user updates made to Google Forms to adjust the structure of the destination sheet. This way, you can take immediate action on the information that you collect.
When users edit their responses in the Google Form, automatic updates are made in Smartsheets. What's more, the app can easily be connected to a new or existing form. Smartsheet for Google forms currently has 429,876 users and a 4-star rating.
---
If you are looking for a Google app that can generate filters and charts based on Form responses, look no further than Advanced Summary by Awesome Table. The app is designed to help you display charts in a smarter and more organized way than a typical Google Form summary.
The app's features allow you to isolate and analyze all subsets of your form answers. Advanced Summary by Awesome Table is a free app that currently boasts 375,947 users. It has been rated at 4 stars by 166 reviewers.
---
Vote for The Best Apps and Admins for G Suite in 2020.
One of the aforementioned apps will be named Best G Suite Integration App for 2020. Regardless of who the winner will be, this is an impressive lineup. For more information about apps that have been nominated in all categories of the upcoming awards, visit the G Suite Marketplace page.