Sign up for a Free 30 Day Trial of G Suite Business and get Free Admin support from Google Certified Deployment Specialists.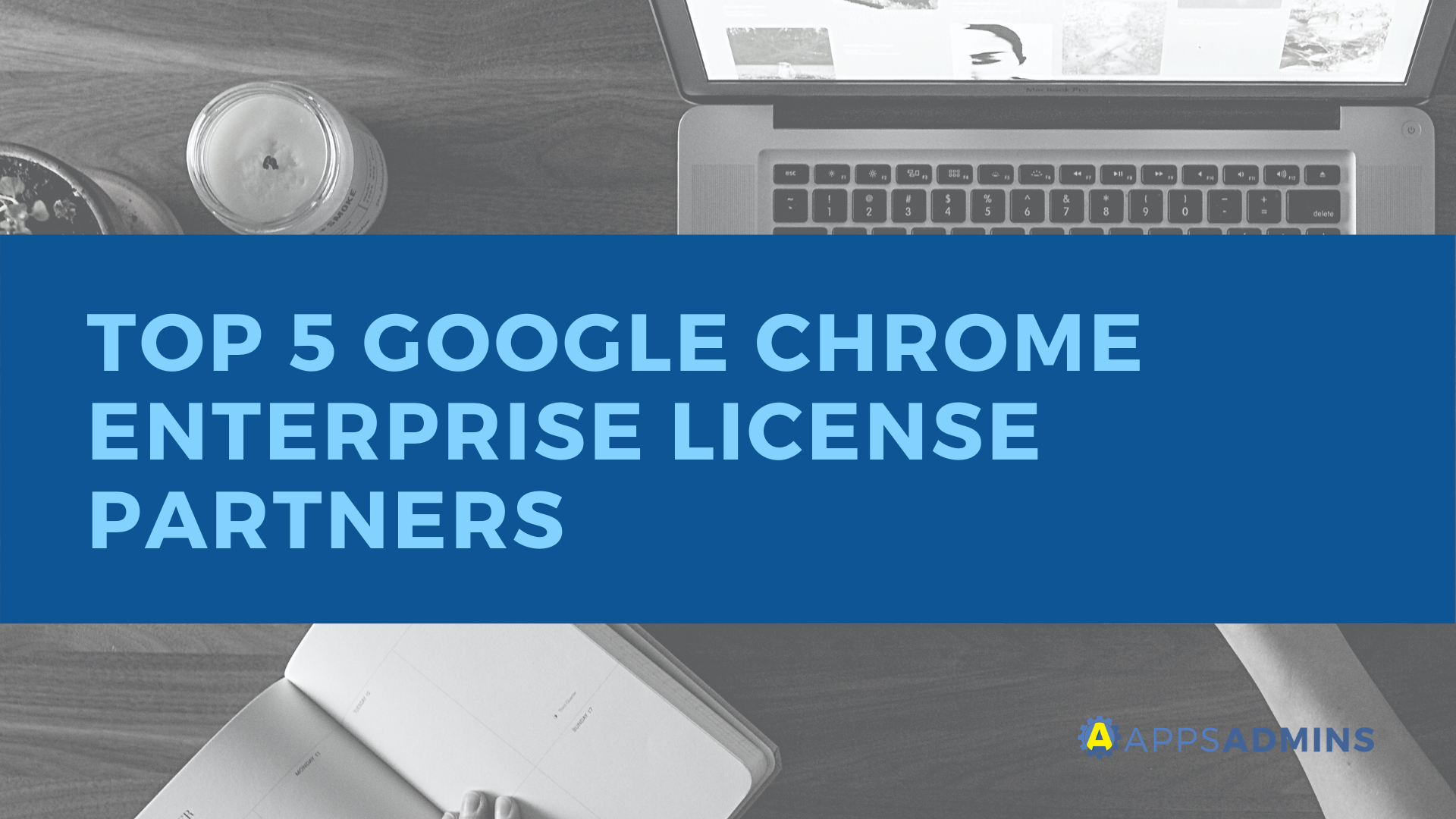 Google Chrome Enterprise is a state-of-the-art solution for businesses that need to combine Chrome Browsers with Chrome OS technology and Chrome devices. Ultimately, it's your all-in-one approach to building a Google-based business operating system. The Chrome Enterprise solution ensures that IT departments can easily manage and control user access to data, applications, and extensions.
On the other hand, users get the option to work securely on any device, from anywhere, with data that exists safely in the cloud. Accessing Chrome Enterprise solutions is an excellent way for businesses to evolve their digital transformation strategies in 2021. However, you can make the journey to the cloud even better, by taking it with a Chrome Enterprise License Partner.
Chrome Enterprise License Partners are professional teams that have been certified by Google to help you make the transition into the Google Cloud. Partners can help you to configure your Chrome Enterprise environment and design a virtually zero-touch IT deployment strategy. To help you make the right connections for your Google journey in 2020, we've put together a list of the top 5 Google Chrome Enterprise License Partners, recommended to us by Google users.
Promevo
Promevo stands out as one of the best-known and largest Chrome resellers and partners in the market today. Delivering exceptional customer service and support to companies throughout North America, Promevo focuses almost exclusively on Google technology and expertise. Since the company was founded in 2001, it's goal has been to help brands move forward in their digital transformation strategies, taking the most valuable tools out of the Google Workspace.
Promevo is a Google Workspace reseller and Chrome partner that offers a complete Google Workspace (G-Suite) for Work and Google Workspace (G-Suite) for Education solution to end customers. You can choose exactly how much of your deployment and configuration that you want Promevo to take control of. Additionally, you get access to the gPanel domain management software designed by Promevo for free.
Other services that set Promevo apart from the crowd as one of the top 5 Google Chrome Enterprise License Partners for 2021 include:
Custom App development: GPanel and GScholar are both flagship software designed and implemented by Promevo. These administrative tools are excellent for school and business use. What's more, they can be customized to fit your specific needs and standards. Promevo also offers development for Google Google Workspace Engine, Apps API, Google Web Toolkit, and more.
Hardware Reselling: As well as delivering Google Workspace (G Suite) experiences to customers, Promevo also stands out as the number one Google Device reseller for North America, carrying a huge variety of Android and Google Chrome devices, as well as a selection of equipment options for digital signage and video conferencing.
Migration Services: If you need help moving into the Google environment for the first time, Promevo can help with that too. The brand offers Google to Google Migration services ideal for companies that have been acquired or are merging with a new business. Promevo is excellent for managing educational migration services too.
Onix
Though somewhat lesser known than Promevo, Onix is still one of the leading Google Chrome resellers and partners on the market today. The company is built on the belief that companies need to access the cloud if they want to move quickly and evolve to suit the changing needs of their industry.
Onix has evolved in its own right over the years, starting as a small startup and joining forces with Google in 2002 so that it could offer more support to enterprises. Since 2002, that relationship with the Google environment has evolved. Today, Onix works with Google to bring Chrome, Search, Google Workspace (G-Suite), and cloud technology to businesses of all sizes – helping them to elevate their organizations to the next level. Onix also offers AWS services alongside support for the Google Cloud.
Some of the things that set Onix apart as one of the top 5 Google Chrome Enterprise Partners for 2021 include:
Robust cloud collaboration solutions: You can access next-level productivity through Onix with everything from file-sharing tools to VoIP and video conferencing, Onix will even help you to build your own intranet.
Security and Authentication: Make sure that the data you need is accessible to your team at all times, but secure enough to protect you in today's era of compliance and privacy. Onix will help to ensure that all of your cloud credentials stay safe and uncompromised, no matter what.
Exceptional support: As a dedicated Chrome Enterprise partner, Onix can offer advice and guidance to customers that need help taking their data into the cloud or migrating from one environment to another.
CDW
CDW is another well-known brand in the digital landscape that has a strong relationship with the Google environment. Offering a combination of hardware, software, and cloud-based solutions, CDW will help businesses from the mid-sized enterprise environment accelerate their path to the future. As a leader in cloud technology, CDW gives businesses the technology they need to prepare for exceptional growth, with expert services and solutions.
With CDW, you can rest assured that you'll get all the expertise that you need to overcome the challenges of embracing the Hybrid cloud or discovering the latest tools of the Google environment. CDW has even established itself as a premier provider for business, government, and education companies in more than 150 countries worldwide.
Some of the services and solutions that set CDW apart as one of the top 5 Google Chrome Enterprise Partners for 2021 are:
SaaS on demand: Through CDW, enterprises can access SaaS on-demand via a carefully curated cloud subscription marketplace. This means that you can quickly and easily gain access to industry-leading security, backup, and collaboration applications from the Google Apps environment.
End-to-end IaaS: Infrastructure as a service from CDW will help you to reduce your expenses while boosting the performance of your IT environment through Google technology. CDW specializes in providing scalable and reliable migrations that reduce IT burdens significantly.
Cloud expertise: Because CDW is a Google Chrome Enterprise Partner, you can rest assured that they have access to all the information you might need to make better decisions on how to build your cloud strategy for the future.
Dito
Dito is another example of a premier partner in the Google Cloud space that can help businesses of all sizes to make their transition into the cloud environment. If you want to skip the hard parts of moving into the cloud and access all the best parts of a Google Cloud landscape straight away, then Dito can help you to do just that.
Dito specializes in everything from cloud consulting services, for those in search of help planning their transformation, to Cloud solutions, complete with Google Workspace (G-Suite) insights, cloud platform planning, and training or support. Whether you want to start small or go "all in" with you Google Cloud technology, Dito can help you to find a path to migration that works for you.
Some of the things that make Dito stand out as one of the top 5 Google Chrome Enterprise Partners for 2021 are:
Cloud transformation support: Dito helps its customers find opportunities within the cloud to reduce costs and improve productivity and efficiency. The consulting process can uncover value opportunities that you may not have seen before.
Application development: If off-the-shelf applications aren't enough for your team, Dito will help you to create the functionality you need with a team of dedicated software-as-a-service experts and product developers.
Chrome OS and device management: Whether you need help with fast laptops, shared computers or just your Chrome digital signage, Dito can help you to rediscover all the benefits of your Chrome devices in the connected landscape. You can also access a singular admin environment for controlling all of your devices in the same place.


Agosto
Finally, Agosto is another tier 1 Chrome License and Enterprise partner for today's modern businesses. Offering excellent tools for companies ready to jump head-first into the Google environment, Agosto makes it easier for anyone to enhance their operations with the Google Cloud. Agosto is a custom development partner with an insight into the Google Workspace (G-Suite) that few other companies share. This is a brand that wants to be the go-to solution for anyone in search of excellent cloud-first technology.
Agosto even has its own "Skykit" digital signage solution designed to work seamlessly with the Google Cloud. The Agosto Skykit was built as part of the custom development services offered by the brand, allowing users from all backgrounds to tap into the unique benefits of Google Chrome. All you need to use the service is a Chrome Player, a screen, and the Skykit tech. Other components that set Agosto apart as one of the top 5 Google Chrome Enterprise Partners for 2021 include:
Google expertise: Whether you need help with the Google Cloud Platform, Google Workspace (G-Suite), or just Chrome and Chrome devices, Agosto will help you to navigate your way through your Google strategy, with a focus on flexibility and success.
App development: Custom development services from Agosto are what led the company to create its Skykit solution. They're also one of the many ways that you can rely on Agosto to help you take your Chrome strategy to the next level.


Migration: Agosto will work with your brand to visualize the next stages in your Chrome migration strategy and help you move to your preferred cloud environment. Whatever you want to achieve with Google, Agosto will help you do it.


Which of the top Google Chrome Enterprise partners above will you be choosing for your business strategy? Reach out to Apps Admins today or let us know in the comments or suggest someone you think we might have missed.