Sign up for a Free 30 Day Trial of G Suite Business and get Free Admin support from Google Certified Deployment Specialists.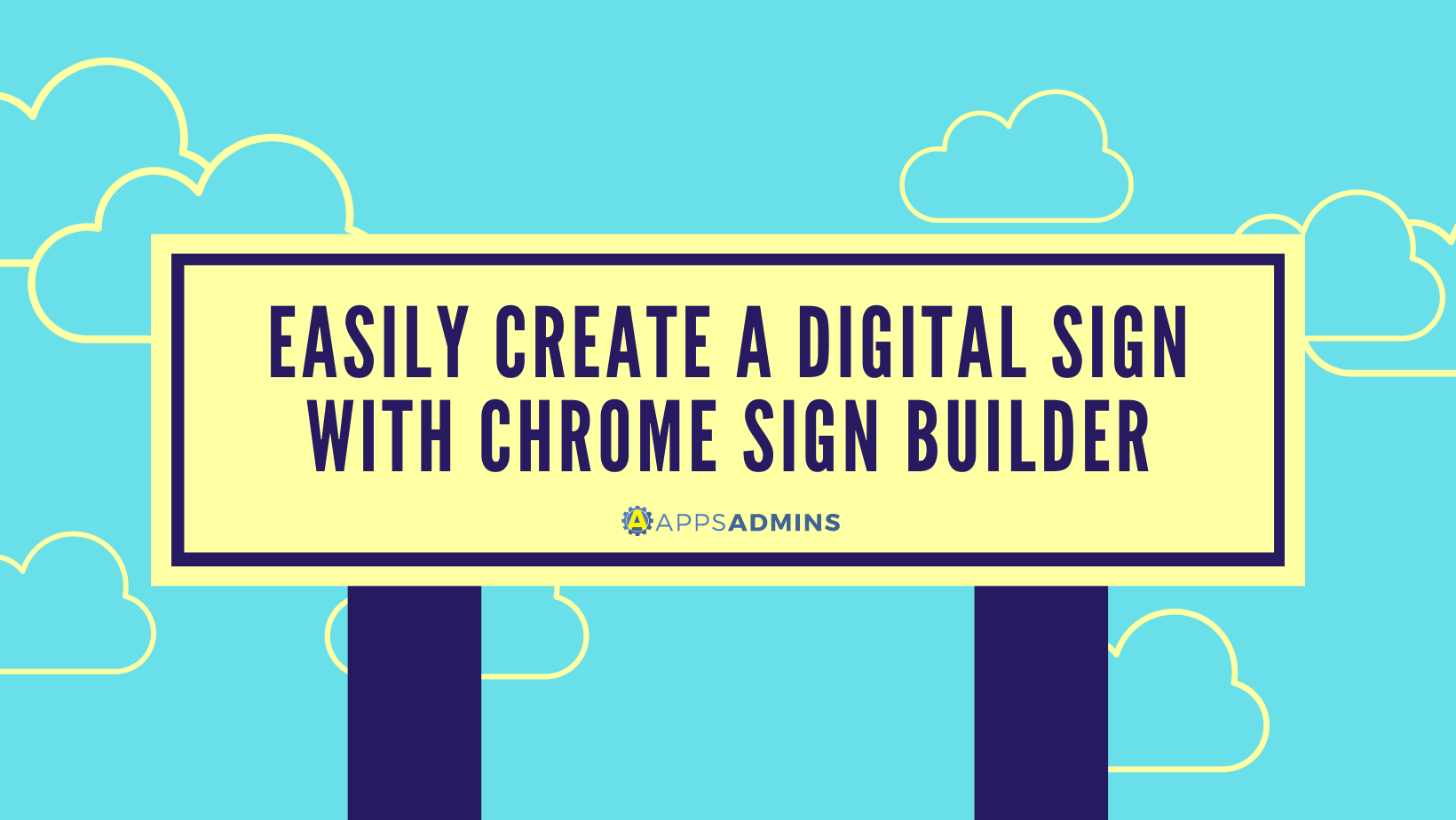 Signage is an important part of many different types of businesses. The ability to communicate changing information to current and potential customers is highly important. However, updating signage can be time-consuming and often bothersome. Chrome Sign Builder allows you to create digital signage that's easily updated. It is a versatile tool that is easy to manage. Here is a brief overview of some of its uses and general use tips.
4 Uses For Chrome Sign Builder
Restaurant Menus: have to be updated daily and often require multiple updates throughout the day to account for breakfast, lunch, and dinner menus. With Chrome Sign Builder you can write each menu out in advance and schedule them to switch as needed.

Retail Displays: well-placed Chrome devices can be used to communicate current sales or provide product information. These displays can easily be managed from the Chrome Device Management console and each updated as needed.

Online Presentations: displays can run a Google Display presentation automatically and you can alter options such as slide advancement and how often the display cycles. This allows you to create displays that can be used to communicate information, advertise, or simply as a part of a business's overall aesthetic.

Youtube Playlists: many companies and freelance video makers upload a great deal of video material to Youtube. A playlist can easily organize videos as needed into categorized playlists.
Why Should You Use Chrome Sign Builder and a Chrome Device for Signage?
The answer is simple. And here's why:
Affordable: Chrome devices are very affordable and offer high-performance level on inexpensive hardware. In addition to being a good ROI, you can manage all your Chrome devices from the Chrome Device Management console which is easy to access and doesn't require you be on site to make needed updates. ( check out this $85 "Chromebit", big candy bar sized Chrome device )

Reliable: Chrome devices, in general, are very rugged and can work in busy or tough environments. Plus Chrome devices have long-standing up time and the Chrome OS is stable and resistant to viruses and outside malware.

Versatile: Chrome's digital signage can make use of touchscreen systems, an assortment of different peripherals, and can be used as a powered beacon. Chrome devices can be used in to meet a variety of different signage needs.
Chrome Sign Builder Tips And Tricks
Avoid Blank Screens: you can automatically schedule displays to fill in when needed such as when a restaurant is closed between meal shifts. You can also set a default URL to display when nothing is scheduled to display.

Scheduling Options: are varied and can be set at set times during the day, set to run all day on specific days, or to run at all times with no set conclusion time.

Saving Your Configuration: schedules can be exported and imported as needed with configuration and URLs saved.
Never underestimate the value of signage no matter if you have one sign or a thousand signs. Signs are an important part of your marketing plan no matter how basic they may seem. The ability to communicate relevant information to customers help drives sales and customer satisfaction. By using Chrome Sign Builder as a technology based solution for your signage needs you gain access to an easy to configure robust system that you can update from anywhere via the Chrome Device Management console.
Ready to learn more and get started? Our Cloud Solutions Specialists at Apps Admins are ready to serve your company's work from home needs.