Sign up for a Free 30 Day Trial of G Suite Business and get Free Admin support from Google Certified Deployment Specialists.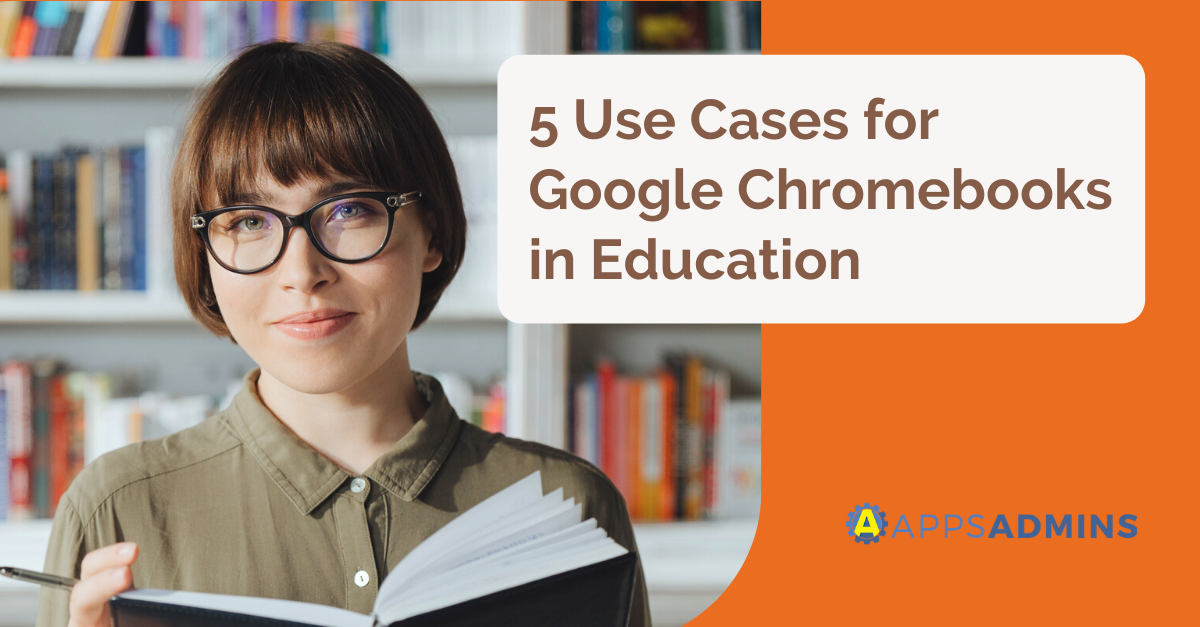 For years, schools have been searching for the best, most cost-effective method to bring technology and all its learning advantages into the classroom. Chromebooks are becoming the solution for many districts. Chromebooks are an economic, thin computer, lightweight, and portable. Being web-based, the computer is not vulnerable to virus and malware attacks. Following are five use cases for Chromebooks in education.
1. Use Chromebooks as the Primary Computer for Students and Faculty
Everything in a Chromebook is provided through apps, including email, documents, and photos that take advantage of cloud storage. Students are able to be productive without an internet connection. Also, offline selections include:
Check assignment calendar
Generate and edit documents
Take notes
Review saved webpages
Compose emails
Chromebooks automatically sync new information and save it once online connection is restored. Typically, Chromebooks include 16GB of storage on top of 100 GB of cloud storage provided by Google. Information can then be stored to a USB as well.
2. Share Chromebooks for Anytime, Anywhere Access
Students don't have to be face-to-face in a classroom to continue working. Assignments can be accessed with a computer or mobile device with an internet connection. Chromebooks in education allow students to gather their own information, and then share and collaborate with others. Because Chromebooks provide limited access computing and have no stored user information, they can be safely shared between two or more students or obtained from the school library.
3. Chromebooks can be used for Student Assessments
Chromebooks are designed with both a kiosk and public mode. They are both useful for assessments, providing educators with a platform that only allows single use to complete a test on devices that are locked down from web searches. Educators can even choose to end an exam session after a certain period of time to meet any evaluation time restrictions. In addition, research indicates that technology-rich school environments increase academic test scores.
Kiosk mode on Chromebooks
In kiosk mode, exams are supplied by way of custom test apps or from an app obtained from the Chrome Web Store. Tests are fun in full screen mode which blocks students from browsing the web or switching to other Chrome apps.
Public Session Mode on Chromebooks
Public mode uses any Chrome-compatible web-based exam. Chromebooks are locked down, preventing access to any other web content which ensures the security and control necessary to comply with standardized assessment requirements.
4. Virtualize a Windows Environment on Chromebooks
Chromebooks use the Citrix receiver and VMWare which support virtual applications and desktops. Educators are able to enhance the physical classroom with a virtual environment that gives access to huge resources and databases. Studies indicate that technology-rich classrooms enhance:
Communication via discussion threads, and forums, and immediate feedback from others
Representative home pages
Work production and completion
Student cooperation and collaboration
Student motivation and Parental involvement
5. Use Chromebooks (and Chromebits!) to power Digital Signages around the School
Chromebooks have the capacity to power digital signages which have many uses and implementations for education. Displays can be logged on to any number of computers, and messages can be directed toward selected audiences at specific times for a precise purpose. In schools, digital signages can be used for:
Daily announcements
On-screen recognition for work well done
School events in gym, bank, art or theater
Map of school locations
Upcoming deadlines
Scheduling changes
Chromebooks enrich learning in a variety of ways. Educators can choose multiple methods of differentiating instruction, immediately respond to student's needs, stay in tune with student progress, and quickly grade student assessments. Technology is an essential part of the education process for students of all ages. Chromebooks are helping school districts provide that technology.
If you're interested in learning more about Multi-Cloud Solutions and how they impact various industries, reach out to Apps Admins for more!