Sign up for a Free 30 Day Trial of Google Workspace Business and get Free Admin support from Google Certified Deployment Specialists.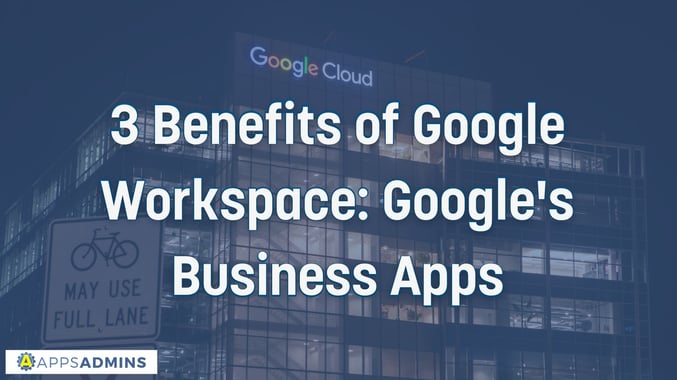 Google Workspace is web based software that you can access anywhere from a computer, tablet, or smartphone as long as you have an Internet connection. It uses what is commonly called cloud computing or software-as-a-service where the software resides on a server on the Internet. You access this software via a secure link over the Internet.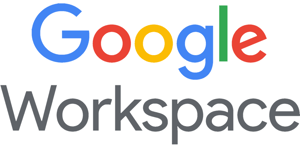 Google's Business Apps allow you to have all the functionality of the software without having to support a more powerful computer to run it. You no longer need a server because you are using Google's servers when you need them.
Cloud computing is seamless to users. Most users won't even notice that they are accessing Google Workspace from offsite. In fact, the only computer they have to us is their own to use Google Business Apps.
1 ) Google's Security and Reliability
Your data is your own. You own it; you access it. You maintain it. It's part of the contract you sign when you sign on for to Google Workspace Business.
One bonus is that you no longer have to worry about your data security on servers. Google has top-notch security and protects your data from hackers. They use SSL and encrypt each browser session. Google's reliable data centers makes your data available whenever you need it. No more worrying about downtime. Cloud computing enables a seamless transition between servers, so you don't have to worry which server does what. All you need to do is use the applications.
What happens if your system crashes or someone steals a computer? No worries. Google backs up your work and you can restore your data and be back up in no time.
2) Cost-Effectiveness
Because the servers are off-site, you don't have the cost to maintain an elaborate data center. Google builds its data centers, keeping their costs low and passing the savings onto their customers. You don't pay for extra machines, space, software, and personnel. You simply pay for your use of the Google Business Apps.
Because Google maintains the apps, they also handle any troubleshooting headaches. You don't have to worry about upgrades or software patches. You will always have the latest version. And because the software will seamlessly grow with you, you don't have to worry about having 10 employees or 10,000 employees.
3) Office No Longer Required
The best part about Google Workspace Business? It frees you from one location. Perhaps your team is throughout the world. There's no need to bring them to a meeting room. You can have video conferences using Google Hangouts Meet and collaborate in Sheets and Docs through Google's Business Apps (Google Workspace). It's easy to get everyone literally on the same page. At the same time. In fact, your team can collaborate and share results in real time.
Popular Business Apps from Google Cloud.
Google has many popular business apps. Here are some of the most used:
Gmail Services -- Google Email services provides email that will grow with your company. You can use existing LDAP servers to manage users.


Google Drive -- Google Drive is offsite, cloud storage. Users start with 30 Megabytes which your administrator can increase to up to fifteen terabytes.


Google Docs -- Google Docs allows multiple collaboration between employees using an office suite created by Google. It include, but not limited to document, form, spreadsheet, drawing, and presentation.


Google Slides -- Allows collaboration between employees to make a good presentation that much better. It provides more functionality than Powerpoint.


Google Sheets -- Better than Excel?, Google Sheets allows simultaneous collaborators, thus making your company more productive.


Calendar -- Allows everyone to be on the same page, whether it's a meeting, scheduling a conference room, or posting deadlines. Your employees will be able to fill in their schedules and synchronize so everyone on the team is alerted.