Sign up for a Free 30 Day Trial of G Suite Business and get Free Admin support from Google Certified Deployment Specialists.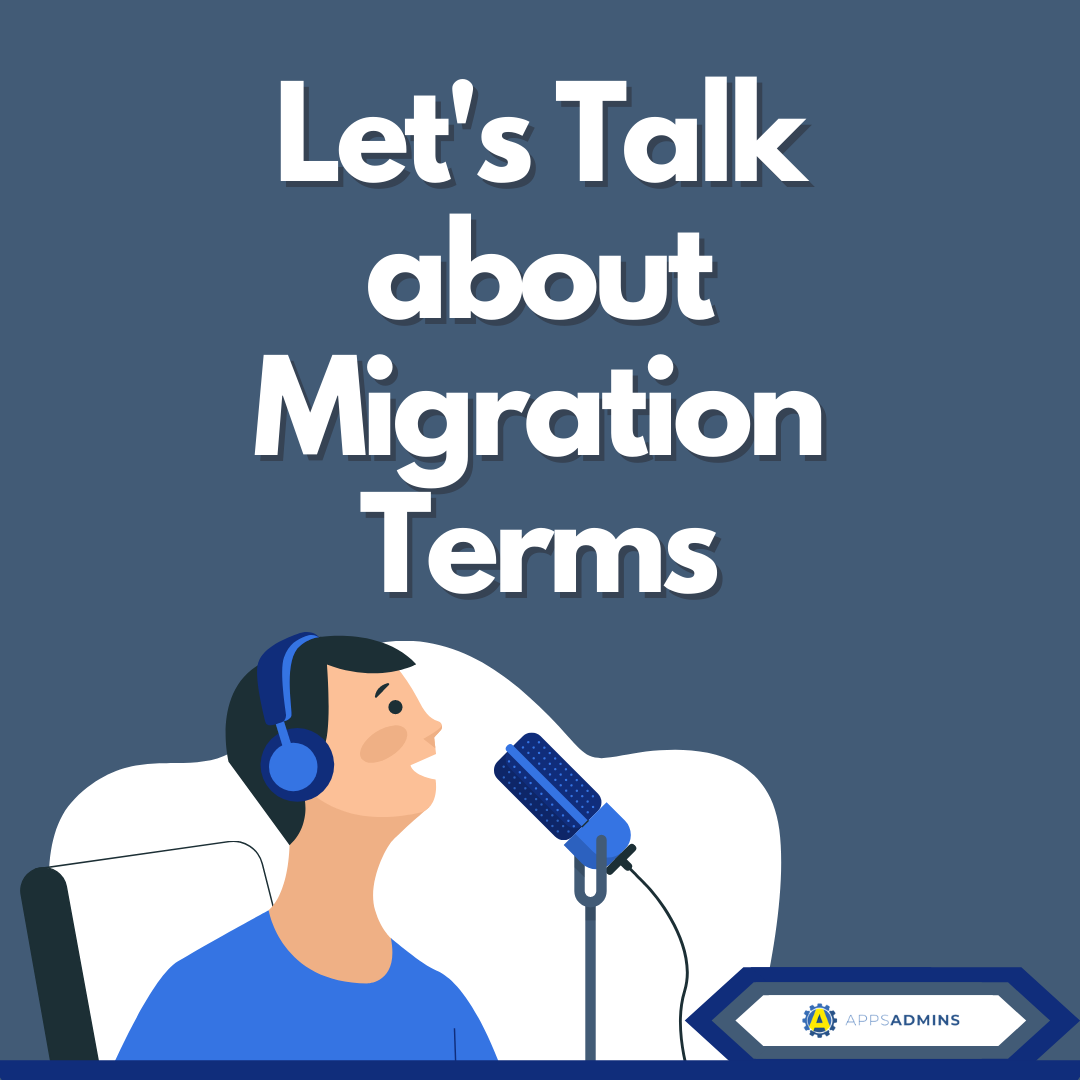 Sometimes it seems like tech folks have their own language. While Google Workspace (G Suite) Business Apps are easy to use and deploy, there are terms used during the migration process which are rarely used in the course of regular business.
Here's a breakdown on common terms used in migration to Google Workspace (G Suite) from Microsoft Exchange, IBM Lotus Notes and other Email servers.
Data Migration Terms
APIs (Application Program Interface) - a set of functions and tools used by the Google Workspace (G Suite) developers to make updates or changes to data.

API Quota: only a certain amount of API requests can be entered during a set timeframe. This prevents excessive stress on server infrastructure.

Calendar Resource: anything that is not an event or an attendee to an event. Common examples are meeting rooms and associated equipment such as a projector.

CSV File: stores data in plaintext and separate entries via commas. It is used to move datasets from your previous environment on the Google Workspace (G Suite) platform.

Global Address List: a Microsoft® Outlook® directory that is shared with all your company's users. Contains resources, users, groups, and contact information and is migrated to continue sharing this information.

IMAP (Internet Message Access Protocol) : a common email protocol for accessing email stored on a remote server.

Legacy Environment: the environment you are migrating your data from, such as Office 365.

MSI: a specific filetype. MSI files are a Microsoft installation format that installs applications via a server.

PST (Personal Storage Table) Files or Folders: any data transferred from Microsoft Outlook i.e. contacts, calendar events, or email.

Top-level Folders: in reference to email this is any folder that is on the same level as the inbox folder.
Google Workspace (G Suite) Migration Data Migration Service Terms
Domain Migration Report: is a report of the status of all end-user accounts being migrated. Migration reports are configured in the .CSV file type. See here for more information.

EWS: refers to Exchange Web Services and is associated with Microsoft Exchange. EWS information includes calendars, email data, and contact lists.

Impersonation Rights: is the ability to use the permissions and access level of an Exchange user account that is not your own.

Item Error Report: is a .CSV file that lists any errors that may have occurred concerning files that did not properly migrate.

Role Account: an account on the email server. For EWS (Exchange 2013, 2010, 2007, or Office 365) the role account requires impersonation rights over all other user accounts to migrate them successfully. For IMAP servers the role account is only used to test mail server connectivity.

TLS: to make use of TLS during the data migration process your certificates must be correctly configured on your existing server. Click here for more information.
Google Workspace (G Suite) Migration For Microsoft Exchange Terms
Delta Migration: this refers to the copying of your users existing Exchange inboxes so no information is lost.

Public Folders: refers to shared folders where a group (or all users) can view the contained information. This can include calendars, messages, contact lists, etc.
Google Workspace (G Suite) Migration For IBM Notes terms
Admin Database: is used to configure a migration for an IBM Domino® domain. It is associated with the IBM® Notes® application.

Domino Directory: is the user/server database for a IBM Domino® domain. It contains user profile information and when a profile or server is created in the directory the associated account and documentation is also created.

Feeder Database: is a Notes database that used during the migration process to copy and extract data to Google Workspace (G Suite) applications. It is run via a scheduled agent.

Notes Template File (NTF): a template that contains design elements but no data or documentation. Migration for the IBM® Notes® is done via a set of distributed NTFs.

Scheduled Agents: are used to move database information from a IBM® Notes® database. They run inside the Notes® database or in the application itself. They are set to run at specific times or intervals as needed.
Need help with your Migration or Remote IT service? Reach out to Apps Admins today for a free consultation and service quote.