Sign up for a Free 30 Day Trial of G Suite Business and get Free Admin support from Google Certified Deployment Specialists.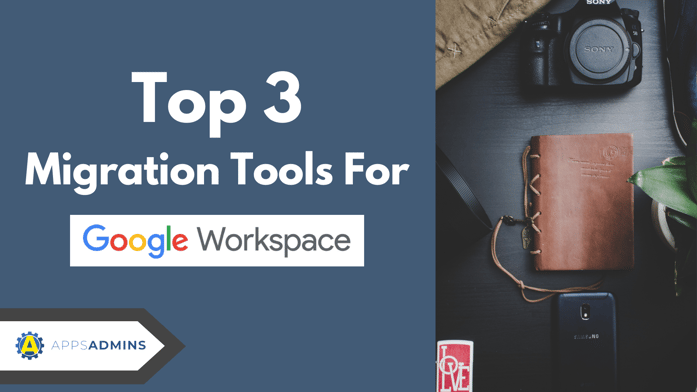 If you're thinking of moving out of your old cloud cave and into the new services and solutions offered by Coolhead Tech and Google then this article is for you. Actually these tools can be used for most any migration to Google Cloud, especially when comparing migrations from Office 365 to G Suite as well as migrations from Hosted or on-premise Exchange servers to G Suite.

While the simplicity and flexibility of the Google Cloud make it easier than ever to embrace the value of Google Workspace, you'll still need a plan in place to make sure that you can transfer all of your crucial data as safely and securely as possible.
As with many things in the world of digital transformation, the best thing you can do before jumping into action is your homework. You've probably already researched the potential benefits of the GCP, and what it can do for your business. You may even have compared the options of Office 365 with G-Suite. Now, you need to figure out which migration service is going to help you move from point A, to point B.
Google recommends using a Google Workspace "Premier Technology" partner for the transition. This means choosing from a selection of experts who have been specially selected for their ability to support new Google customers. Here, we're going to look at the benefits of each of the top G-Suite premier partners, and what they can do for you.
#1 MigrationWiz
MigrationWiz by BitTitan is one of the few migration services approved and even recommended by Google. MigrationWiz is also a favorite of Coolhead Tech's.
Primary features include:
A versatile cloud-based platform for Migrations & Management
24/7 Worldwide Support for email, calendar, contacts and Drive transitions
IT Managed execution
EWS and IMAP supported email
Programmatic management from web browsers, PowerShell, or API
Enterprise-level audit logging/visibility
MigrationWiz is designed for those with a mid-level IT knowledge. The service is a fully-automated 100% SaaS system available to access anywhere, anytime. Set up and configure your mailbox, with all the public folders, cloud storage, and centralized user interfaces you could hope for.
The MigrationWiz service is popular in part because it's very easy to use. Its cloud-based architecture means that there's no software or hardware to install or maintain. Additionally, the BitTitan support team is available to answer any questions you might have along the way. MigrationWiz also promises minimal downtime so that you can migrate from any cloud environment to Google with ease.
The SaaS solution from MigrationWiz also comes with project sharing so that people can collaborate on migration projects across the enterprise. The secure service is compliant with a host of different regulations, including HIPAA, ISO 27002:2013, PCI DSS Level 1, and many more. Additionally, it's the only migration tool that provides advanced options from a robust library of services like impersonation or delegation, date range filtering, and more.
Here's a 4 minute walkthrough of a Migration from O365 (E3) to G Suite Business using MigrationWiz
#2 The CloudMigrator
Designed by Cloud Technology Solutions, CloudMigrator runs in the cloud and comes with IT managed execution, like many of the other services on this list. It's ideal for migrating information from your contacts list, calendar, email accounts, and drives. Features include:
PST, MBOX, EML mailbox support
EWS, IMAP support mail
Detailed troubleshooting logs
Multiple migration service support
Programmatic management via CLI
With Cloud Migrator, you can quickly move your contacts, files, and calendars away from your existing enterprise sources or cloud environments into the Google G Suite. CloudMigrator and CloudMigrator G have helped 7.1 million users transition around the world. You'll have two options to choose from:
The CloudMigrator for Windows
The most common choice for CloudMigrator is the downloadable version, which is ideal for complicated or massive migrations. It's perfect for large migrations as you can download and set up the system using a browser-based or desktop interface to manage the conversion. CloudMigrator is extremely fast too; you can spin up various virtual machines to complete your migration within hours. The system is also highly secure, with zero downtime, and data integrity guaranteed.
The CloudMigrator GO
CloudMigrator GO is the SaaS version of the service, designed for those who want to keep their journey on the cloud. You can manage an entire migration efficiently, with around five steps to follow, and no environment setup necessary. Using scalable cloud infrastructure, migration takes moments, and once again, you get the security of CloudMigrator built in. CloudMigrator Go is fantastic for those who have smaller migrations in mind.
#3 AppBridge Transformation Suite (ATS)
The AppBridge Transformation Suite is a fantastic migration tool, designed to help you move your contacts, drive information, emails, and other data from one cloud to another. AppBridge is available as a managed IT service, and its features include:
Detailed troubleshooting logs
Support for multiple migration sessions
EWS email support
Office 365 and Exchange 2013+ support
AppBridge Transformation Suite requires mid-level IT expertise. As an all-in-one suite for data migration, it features most of the tools you'll need to enjoy a simple transition into Google Drive and G-Suite. Companies can even combine the transformation suite with the AppBridge Transformer and Surveyor solutions, to ensure that you have a complete overview of your migration experience.
One of the most attractive things about AppBridge is that you can choose the deployment that's best-suited to your business. For instance, if you're transitioning from Office 365 on-premise to G-Suite in the cloud, you can choose an on-premise option, or you can run everything entirely on the cloud. A simple dashboard makes it easier to manage all your teams, licenses, and products in a single location.
The AppBridge migration methodology is supported by plenty of detailed documentation, 24/7 team support, and world-class training, to ensure you get the most out of your cloud journey. Additionally, since data is the most valuable thing in the world today, AppBridge ensures that you can handle your transitions with the utmost care. All migrating information is encrypted both in motion and at rest. AppBridge also supports SSL.
Currently, AppBridge has earned the trust of some of the largest organizations in the world, making it an excellent option for Office 365 users making their way into G-Suite.
Top 5 Tips for a Successful Data Migration to G Suite
We've covered some of the best migration tools to help you transition into the Google Cloud. However, before you go, why not check out a few quick tips to enhance your chances of a successful and secure migration?
Consider your Data Migration Options

Prepare Your New Cloud Environment

Know the Difference Between your Cloud Infrastructures

Decide Whether to Move or Recreate Apps

Test Your Environment Thoroughly
Moving data out of one environment and into another doesn't have to be as complicated as it seems - particularly with the support of the Google-approved tools above. You need to make sure that the service you choose supports the transition of all your data and has the security measures in place to keep your information safe as you move it into G-Suite.
Remember, a crucial step in any successful data migration process is to make sure that your new cloud provider is prepared to safely receive all of your migrated data and applications. This means that you'll need to take steps like preparing any disaster recovery options, establishing load balancer policies, and creating IP subnets. There's plenty of documentation available from Google online to help guide you through the process of setting up a migration.
Moving from one cloud environment to another can be a challenging experience. Although many cloud solutions offer some similar features today, the underlying designs of each platform can be very different. It's important to think carefully about the changes you might encounter when you're implementing a migration project. The good news is that a transition between Office 365 and G Suite can be easier because there are various tools specifically designed to support this journey.
Once you understand the new cloud environment you'll be moving into, and you've set the system up for success, you can begin to think about whether you need to move specific applications, or just recreate them. In some cases, moving an application might be faster. However, you might find that you run into licensing issues and incompatibilities that are problematic down the line. If you want to change how your applications run on the cloud or set them up for long-term success, now's the time to do it.
Finally, if you're worried about the complexity of Migrations on the cloud, then you can ask our Apps Admins to give you a hand. They are migration experts and do the hard work for you, so you can just enjoy the benefits of G Suite. The service involves a tried-and-tested process for smooth and seamless transitions. Your Google Certified Administrator begins by asking you for the details of your migration and assigning you an G Suite Service Delivery Manager. Once your details are confirmed, you can book a migration schedule for your project. The experts available remain on-hand to answer your questions throughout the entire migration.