Sign up for a Free 30 Day Trial of G Suite Business and get Free Admin support from Google Certified Deployment Specialists. No Credit Card Required.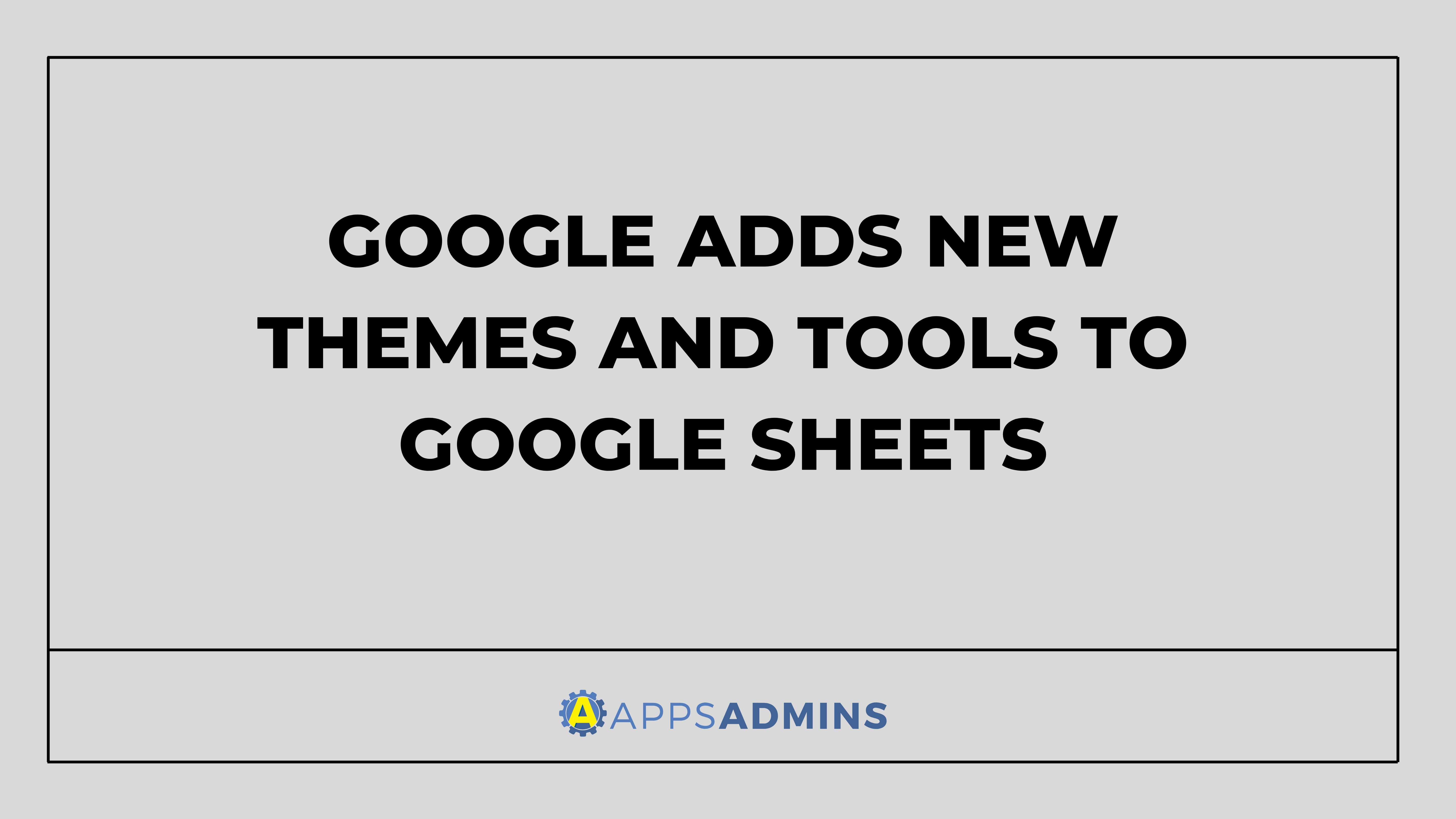 If you've ever wished that you could get more done in your Google Sheets, then you're in luck. Recently, Google has been implementing a host of updates to the Google Workspace(G-Suite) productivity tools that companies rely on every day to get work done. As part of the Google Cloud Next event in Tokyo, Google announced a wide variety of new security updates to Google Workspace(G-Suite), so that enterprise users can rest assured that their information is safe and secure in the cloud. Additionally, in previous months, we've seen new changes in the Google Workspace(G-Suite) environment that include things like offline editing and Gmail enhancements too.
Now, for companies who rely on Google Workspace(G-Suite)'s Sheets solution for managing their spreadsheets, there's a selection of new tools to explore too. At the beginning of August 2019, Google announced the arrival of new tools that will allow enterprise users to create more compelling reports in Google Sheets. These solutions include unique Themes, Scorecard charts, and Slicers. All of the tools will make Sheets more interactive, and they build on the new features for objects in Sheets that Google announced earlier this year.
What's New to Google Sheets?
As many Google Workspace(G-Suite) users already know, Google Sheets isn't just for data entry and formulas. There has always been the option within Sheets to explore things like graphs too. With the new features, those graphs and reports can become even more intuitive and immersive. For instance, with Themes, users will be able to customize the way that their spreadsheets look and feel. This means that you can add a range of charts, tables, and cells into your Sheets environment to drive better consistency for your team. The Themes options differ from previous templates that allowed businesses to create pre-made spreadsheets for budgets, schedules, and other purposes.
The initial Themes upgrade comes with a wide selection of presets already available to choose from. However, there's also the option to create custom themes too. At the right hand side of your Sheets page, you can pull out an additional functionality panel, where you'll be able to see previews for each design available. If you want to apply a preset theme, all you need to do is go into the Format menu, then click on Theme to choose the option that's right for your team. To create a custom theme, just click on Customize instead.
Slicers are another new feature that you'll be excited to see in the Sheets environment. These are unique drop-down fields in the Sheets environment that give you a new way to filter dashboards and reports according to specific values and conditions.
The third and final update recently made to Google Sheets comes with Scorecard charts - the solution that allows users to display key metrics within their spreadsheets. You can use these scorecards to call out key statistics or KPIs within your sheet. What's more, there's also the option to show your statistic in comparison to other numbers. This makes it easier to illustrate how things have changed or evolved in your workplace over time.
Creating Immersive Reports
The new Google Sheets solutions join copy-and-paste images in Sheets, Guides, and formula-backed charting options inserted from Answers that Google previously announced in 2019. All of these upgraded tools come together to help businesses generate more engaging and informative documents for their teams, designed to improve productivity and drive more informed business decision-making.
In a world where businesses need more help than ever staying agile in the workplace, the updates to Sheets are a valuable addition to the Google Workspace(G-Suite) roadmap. Themes in Google Sheets, as well as the other tools mentioned above are all rolling out to the productivity suite immediately.
Notably for Google Workspace(G-Suite) admins, the new features in Sheets will be switched on by default. You will need to follow the instructions provided by Google if you want to turn this functionality off for your team members in the months to come.
Ready to get started? Our Cloud Solutions Specialists at Apps Admins are ready to serve your company's work from home needs.