Sign up for a Free 30 Day Trial of G Suite Business and get Free Admin support from Google Certified Deployment Specialists.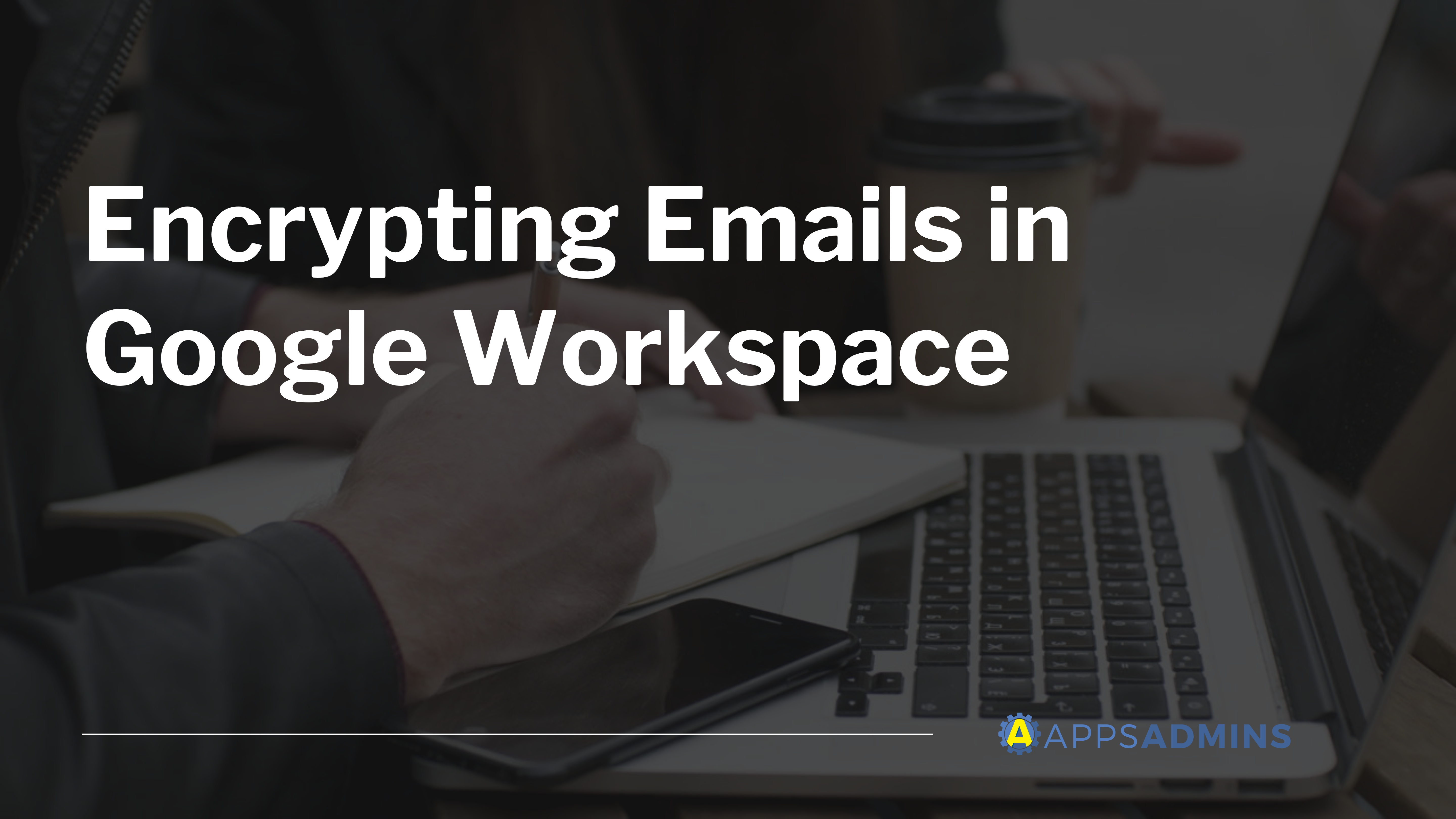 Security and privacy have always been serious concerns for any company. Not only do you need a system in place that keeps your business information safe and secure, but you need to convince your customers that they're in good hands with you too. As the marketplace grows increasingly competitive, your security strategy could be the component that assures a client to either work with your organization or replace you with a competitor.

To help you keep your business as secure as possible, we're going to take a look at:
The top 2 email encryption options for Google Workspace (Recommended by Google)
The benefits of each software option
Why you need email encryption software
How Does Email Encryption Work in Google Workspace?
If you're a Google Workspace customer already, then you'll know that the search giant embeds as much security as possible into its services to make sure that you can always feel confident about what you're sharing and sending online. Of course, that doesn't mean you can't help Google out with a little defending of your own.
Email encryption software solutions are specialized security strategies designed to protect the integrity and confidentiality of your email messages. Although this technology has been available for quite some time now, the tools that you can access today are now bigger and better than ever before, thanks to some significant progress in the security industry.
Email encryption solutions work by attempting to eliminate the risks posed by people who might be trying to get a sneak peek into your organization. Unfortunately, your default email applications are generally unprotected by protocols like TLS and SSL which help to keep web pages safe. This means that the contents of your email messages and the attachments that come with them can often be intercepted by attackers. This is obviously a pretty big problem for a company that needs to store and manage sensitive data. All it takes is for a single host to be infected with malware, and your email messages could bring your entire company to its knees.
The good news? There is a solution. Google recommends two excellent email encryption options for people who want to make sure that their messages are as safe as possible: GAME and Virtru. Let's take a look at each tool in further detail.
What You Need to Know about G.A.M.E
GAME is Google's brand of message encryption, explicitly delivered for Google Workspace. The solution was designed by a company called Zix at Google's request, and it's designed to ensure that people within a business can communicate safely and securely with their customers and business partners in any environment. Google Workspace users can even predefine the security policies in their email encryption strategy with GAME to trigger the protection of outbound email information.
Through Zix's 'Best Method of Delivery,' GAME offers easy-to-use encryption for G-Suite customers. The service is available "on demand" which means that you don't have to worry about over-paying for your encryption methods. Additionally, ZixEncrypt works just as well on your mobile tablet or smartphone as it does on a desktop.
If your business exists in a vertical that has a lot of regulatory issues to consider, GAME from Zix might be the perfect choice for you. The service comes pre-packaged with advanced compliance filters to help you meet with the expectations of a range of regulations. Just some of the regulatory issues you can address with Zix include GDPR, PCI, GLBA, and HIPAA.
With ZIX you can run your business effectively without having to worry about things like making your employees use additional passwords to log into their email.
What You Need to Know About Virtru
Virtru is another email encryption solution specifically recommended by the experts at Google for G-Suite business users. Virtru was initially founded by two brothers: Will Ackerly, and John Ackerly. Both men have an extensive history in security. John was a policy director for the White House during the administration of Bush, and he was responsible for coordinating various security policies before and after the terrorist attacks in 2001. Additionally, Will held a position with the National Security Agency for almost a decade before he launched the Virtru business with his brother.
Like GAME, Virtru provides end-to-end encryption for email users on G-Suite, with technology recommended by Google. With Virtru you can easily encrypt files directly from the G-Suite without having to change your work strategy at all. Additionally, the software works by embedding directly into your G-Suite applications, so you don't have to access any new tools to use it.
Virtru-encrypted emails appear naturally in Gmail, and you'll be able to see within the application who has read your emails. You can also control eve5rything from forwarding to adding watermarks to PDFs and more.
GAME (ZixEncrypt) vs. Vitru: Which Should You Choose?
The simplest answer is that it depends on you. Both GAME and Virtru are recommended by Google, so you know that they'll work well with your Gmail environment. However, GAME (ZixEncrypt) was explicitly commissioned by Google for Google Workspace (G-Suite) users, which could give you more peace of mind if you're looking for the best service on the market.
One particularly appealing feature of GAME is its multi-layer filtering approach to email security which helps to protect your business from ransomware, malware, and other issues. The multi-layer filters available with GAME continually update according to the machine learning information that they're gathering through Google AI. They also use automatic traffic analysis and live threat analysis to keep your security up-to-date.
Alternatively, Google continues to recommend Virtru for email encryption even though they have their own choice in-built into the Google Workspace (G-Suite). Some companies take that to mean that Virtru is well-worth consideration when they want to boost their security strategy.
Virtru is easy to deploy and implement, unlike most of the legacy encryption software that was available before the rise of cloud technology. It gives your company administrators the ability to quickly see useful information about where files and emails are being shared, both outside and inside of the organization. Additionally, Virtru allows you to configure rules and enforce your security policies depending on the needs of your business.
Why You Need Email Encryption: 5 Crucial Reasons
By this point, you may be thinking that both Virtru and GAME seem like excellent options for your email encryption strategy, but you might not know why you need encryption software in the first place. After all, Google Workspace is a remarkably secure productivity suite, and the chances are that you have various forms of security installed within your organization too.
Email encryption software is intended for environments responsible for hosting their own email services. The chances are that if you outsource your email, the vendor supporting you will have their encryption methods in place. If you do host your personal email services, then encryption is essential, because sensitive data will be coming in and out of your company all of the time.
Data exposure via email communication has become a very significant problem over the years. One accidental download or a click on a wayward link could be enough to expose your top-secret company information to the world. Here are just some of the reasons why it's essential to have email encryption in every business environment.
1. Keep Your Company Safe
Information is probably the most valuable asset your business has. Research suggests that data is the world's most crucial substance today - worth more than oil or gold. With so much at stake with regulations like HIPAA and GDPR to think about, you can't risk losing control of any of the information in your network. Not only could you end up facing a nasty fine, but you could also find that your competitors end up using the information they steal against you. Email encryption is essential in protecting your business.
2. Protect Your Customers
When today's customers choose a company to work with, they're not just looking for the business with the best products or the most attractive prices; they're also looking for organizations that can promote the right experiences too. This means that they want to feel safe and secure when they're doing business with you. Email encryption protects the confidential information that your customers are trusting you to defend. This means that you don't have to worry about keeping things like social security numbers and banking details safe. The more you can put your customer's minds at ease with email encryption, the more likely you are to outshine the competition.
3. Encryption is Crucial for Email Compliance
Ultimately, whether you believe you could do without email encryption or not, it's a solution that's recommended and often required by many of the most significant regulatory regimes in the world today. For example, the policy put in place by CJIS mandates that you have to encrypt any private data that is leaving a secure location - that means that you have to code your emails. At the same time, HIPAA asks organizations to implement encryption technology to protect all their secure information.
4. Encryption Helps with Authentication
One of the most significant threats that today's companies face comes from third-party tampering in their email messages. You may have heard the term "man in the middle" attack before. In these attacks, hackers intercept emails and other communication strategies on their way to a recipient. If this happens to someone in your business, then a hacker can impersonate someone in your company, and trick you into revealing confidential data. Encrypted messages verify that the sender is who you expect them to be. With encryption, you make sure that the news is trustworthy before you open it.
5. Reduce the Risk of Spying
Most standard email providers use TLS to keep emails relatively safe during transit. However, TLS often fails when servers aren't properly configured, or recipient email servers don't support the standard. On top of that, countless hackers around the world have begun to become more efficient at breaking through the restrictions of TLS. On the other hand, correctly encrypted mail that uses a tool like GAME or Virtru makes sure that your emails are always protected, no matter what happens with the servers around it.
Upgrade Your Security with Email Encryption
Ultimately, every company, large or small can benefit from some form of email encryption software. The trouble is, with so many different options out there to choose from, it can be challenging to decide what kind of encryption is best for you and your business. If you're a Google Workspace (G-Suite) business user, it makes sense to use the tools that are recommended by Google themselves.
Whether you decide that GAME or Virtru is right for you, embedding an encryption strategy into your workforce makes sure that your business has the tools it needs to protect vital data.
Need more help getting the most out of Google Workspace? Reach out to the experts at Apps Admins today!