Sign up for a Free 30 Day Trial of G Suite Business and get Free Admin support from Google Certified Deployment Specialists.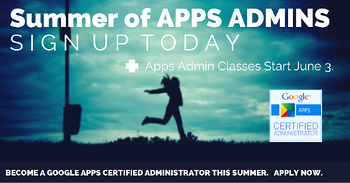 Now in its third year, The Apps Admin Summer Program provides local students and businesses an opportunity to grow by doing more with Google Apps and other Cloud technologies. For area college students and technology professionals there are twice weekly classes to prepare for the Google Apps Certified Administrator Exam. All students have the opportunity to gain real-world experience interning for Coolhead Tech and area businesses and organizations using Google Apps. Here are some Frequently Asked Questions from students.
---
Here they are, your top questions for Summer 2014. I'm excited to meet and work with everyone this summer. If you have any more questions please let us know. -Chris


1. What is Google Apps Certification?

The Google Apps Certified Administrator exam certifies Administrators who demonstrate the skills required to manage a Google Apps domain. The exam is administered and proctored by Google. Candidates who pass the exam receive the Google Apps Certified Administrator badge and certificate from Google.
The Administrator exam is taken in the Admin console of a live domain created for the exam. You'll be given a series of problems to solve as a Super Admin using the Admin console. An application called the Examinator controls access to the exam problems and domain.
1. What are the pre-requisites for the Program?
Students should have a familiarity with Google Apps: Gmail for Business, Google Drive, Docs, Spreadsheets, etc. Successful completion of APPS 100 Enterprise Training (Self-Study) is highly recommended.
2. Where are the Classes and Internships taught?
Classes will be taught at Coolhead Tech's office downtown - 700 Lavaca. We are also considering a North Austin location based on student demand.
3. Is the Internship Required?
While the internship is not required, it is highly recommended for students who have no Google Apps Admin Panel experience. Google recommends that Certificate candidates have 6 months experience managing a domain of 50+ users. The Internship helps fufill this practical experience through Helpdesk management, client on-site experiences and Google Apps Migrations.
4. What Types of Internships and Projects will we be doing?
Google Apps Interns at Coolhead are involved in every stage of a client's migration to and adoption of Google Apps. Google Apps Migrations involves the process of moving a company's email, calendar and contacts from a legacy server to Gmail for business and Google Apps. After careful planning and setup, migrations generally begin on a Friday afternoon with "Go Live" on Monday morning.
Interns also manage day-to-day operations of Google Apps customers in Austin and Central Texas. Responsibilities include User amd Groups Management, Google Drive provisioning, business analysis of Google Apps usage, Spanning's Cloud-to-Cloud backup and security auditing with Cloudlock.
Side projects include helping organize the Second Annual Apps Admins Day ( October 9, 2014. ) Other student projects include designing and coding Google Business Apps for the Marketplace.
5. How am I Paid as a Google Apps Intern?
During the first 5 week session students are offered a weekly stipend for work as junior helpdesk engineers. As skills are proven you'll be offered opportunities in Google Apps migrations and projects such as Google Apps Scripting, spreadsheet building, etc. This client work generally pays between $10 and $20 per hour based on project demands.
6. What are the Costs of the Program? What's Included?
The total cost of the program is $1098 and includes the Google Apps Certified Administrator Exam fee. All course materials are included. Students have access to all necessary resources including Google Apps Domains, Virtual Servers (Linux/Windows), Chromebooks, etc.
Summer 2014 Apps Admin Schedule:
Session I

May 30, 2014 - Non-refundable Deposit Due $274.50
June 3, 2014 - Classes Begin
June 16, 2014 - Tuition Balance Due $274.50
July 3, 2014 - Classes End

Session II

July 3, 2014 - Non-refundable Deposit Due $274.50
July 7, 2014 - Classes Begin
July 18, 2014 - Tuition Balance Due $274.50
August 15, 2014 - Classes End

Google Apps Certified Administrator Exam
Students who attend both sessions may schedule and take the Google Apps Certified Administrator Exam at their convenience up to 30 days after the last class.
Apps Admin Classes start June 3. Register Now
---