Sign up for a Free 30 Day Trial of G Suite Business and get Free Admin support from Google Certified Deployment Specialists.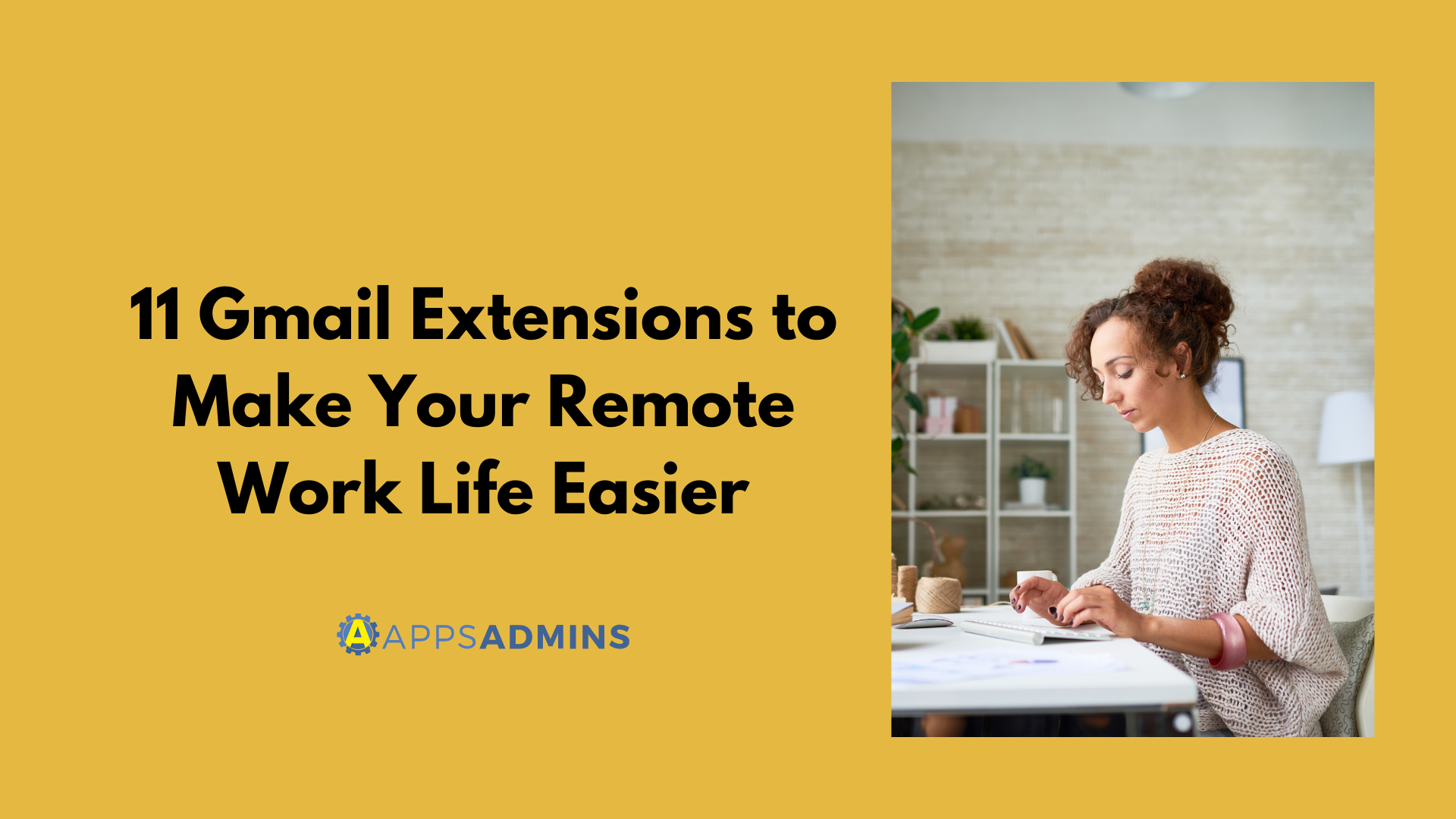 These days, there are dozens of ways to keep in touch with our colleagues, customers, and other people in the business landscape. When you need to ask a question or launch a conversation, you can pick up the phone, launch a video conference, send a message, or log into a tool like Google Hangouts Chat. However, a large majority of us still rely on email for much of our day-to-day work.
Think of it this way – how often do you get through a full day without checking your inbox?
Email can be a very handy tool if you know how to use it correctly. It's great for quick correspondence, and it gives you a useful way to send information and documents to other people in your team. If you're one of the countless companies that use the Google Workspace, you'll also have access to one of the most popular email clients of all: Gmail.
Gmail is a fantastic way to not only send and receive emails but get more control over the content that you share too. Like the rest of the Google Workspace, Gmail experience also comes with the option to add extensions and plugins that will simplify and enhance your email experience.
However, you wouldn't want to add every possible plugin to your Gmail experience. Instead, you'll need to think about which tools are the most suitable for you and your team. That's why we've put together a list of the top extensions to try.
1. Clearbit Connect
An extension that promises to supercharge your Gmail experience, Clearbit is basically a prospecting tool that helps you to collect email addresses and fill in blanks on necessary leads. You can use this service to find the employee email addresses for any company that you want to connect with. Plus, there's the option to unlock useful contextual data about the people who email you too.
With Clearbit Connect, you'll have the ability to explore the largest and most comprehensive database in the world. Once the Connect experience is installed, companies and people from all around the world will be just a click or two away. This discreet but powerful extension is excellent for any business that wants to increase their lead quality or make the most of their lead strategy.
2. Todoist
Todoist is one of the best extensions for Google Chrome, and Gmail, depending on what you're looking for. This sensational tool is all about making you more productive and efficient at work. In your Chrome browser, that means providing you with a place to make notes and follow up on tasks. In Gmail, the Todoist extension provides you with an easy way to manage your tasks wherever you are.
Todoist for Gmail makes your to-do list accessible whenever you're using the Gmail application – even if you're online. Since most business owners end up with extra things to do when they're checking their emails, like responding to a specific message or question, it makes sense to have access to this kind of tool. In fact, for most of us, our email inboxes are already to-do lists, they're just not as organized as they should be.
3. Mailvelope
Google prides itself on offering one of the most secure and private productivity experiences on the web today. However, that doesn't mean that your email inbox is automatically impervious to criminals and hackers. Sometimes, if you're concerned about the information that's shared through your email messages, it's valuable to take extra steps to protect yourself. Mailvelope can help with that. This security extension or Gmail provides useful access to end-to-end encryption.
With Mailvelope, you'll have a unique key that you can share with the people who will receive your email so that they can de-encrypt anything that you choose to send them. This ensures that sensitive information can remain safe and sound.
4. Dropbox for Gmail
Gmail is an excellent place to send useful files and information from your team to someone else. You might decide that you need to send a contract to a customer, or a PDF attachment to a contractor. However, sending files and documents over the web can be a complicated process. You may need to take extra precautions to protect your business and your data fully. Fortunately, there's always the option to use the Dropbox plugin for Gmail.
Dropbox isn't just a useful place where you can store information and files online and in the cloud. Although Dropbox acts as a fantastic backup solution for people who want to keep their content safe, it's also a great security tool. That's because all the documents uploaded to Dropbox are encrypted both in transit and at rest. This means that you can easily send and preview files through Dropbox for email, without having to worry about security issues.
5. UglyEmail

Another fantastic tool for companies that want to secure their Gmail experience a little further is UglyEmail. This is a useful, yet very easy to use extension from Google. Basically, it works by putting an evil eye next to any email in your inbox that may be being tracked by another company or service. Email tracking is a particularly common practice in the business world. A lot of companies want to check if you've gotten their email and read it.
However, it's also worth being aware of exactly who is tracking you. It's all too easy for some companies to hide the fact that they're tracking their emails by just getting rid of watermarks and other content on the bottoms of emails when they upgrade to a premium version of their tracker.
6. Checker Plus
The Checker Plus extension from email is a fantastic way to fully customize your email alerts. You can decide exactly which of the emails in your campaigns are going to trigger a notification, as well as how your Checker solution is going to notify you. For instance, sometimes it's push notifications on your desktop. Sometimes, you'll get a sound delivered straight to your computer. You can even ask your Checker Plus application to read the subject line of notification to you.
If you decide to enable push notifications for your Gmail inbox, then you can also use the notifications on your phone to interact with your messages. There's no need to open the Gmail application separately. Instead, you can delete or mark each item as "read" when they pop up on your screen.

7. HelloSign
HelloSign is a phenomenal application, and something that many businesses rely on today to make sure that they're getting the most out of their interactions with clients. Now that we're living in a world where business often happens on a global scale, people don't want to have to worry about scanning signed documents and sending them over email or visiting a client in person to get a signature. Fortunately, with HelloSign, there's no need for that.
If you've ever experienced the headache of being asked to sign a document that's sent to you via an email, you'll know how important a tool like HelloSign can be. This fantastic service eliminates the need to have to print, sign, scan, attach, and reply to an email that needs a signature. Instead, you can simply enter signatures into documents within seconds. What's more, the signatures are legally binding and equipped with security that's approved by banks!
8. Ginger
Another Gmail extension that's definitely worth a look this year, is the Ginger plugin. This is a tool that's designed to ensure that you can appear as professional as possible when you're active online. Ginger will check your punctuation, spelling, grammar, and sentence structure, all at once. Additionally, it comes with a handy translation function that you can't get with most grammar and spelling checkers for today's email tools. You can translate full sentences or individual words into a total of 40 different languages.
Even if you know that you're a grammar expert who never makes a spelling mistake, you're sure to end up exhausted by the end of a busy day. This could mean that a few spelling mistakes end up slipping through the cracks. Fortunately, Ginger's extension will plug straight into your Gmail experience to make sure that you stay mistake-free.
9. WiseStamp
Speaking of making your emails seem as professional as possible, it may also be worth taking a closer look at WiseStamp. This useful application allows users to place helpful signatures at the bottom of any email that they send to a professional. The dynamic signature offers a link to your website, as well as any blog posts and videos that you might want to share. You can add custom signatures with logos, quotes, and extra personal flairs.
Designed for business leaders, experts, and even professionals who want to make an impact online. Wisestamp will give you that extra touch that really makes your messages stand out in a sea of correspondence from other companies.
10. Assistant.to
Ever wished that you could have a personal assistant built into your email experience? Assistant.to could give you just that. This useful Gmail service will give you the access you need to view your calendar, check different time windows, and schedule upcoming appointments with clients and contractors, all without having to leave your Gmail window.
Since most businesses need to manage at least some back and forth with clients and other individuals to figure out times that work well for both parties, it makes sense to find a plugin that can help with your schedule. The Assistant.to extension means that whenever your client receives an email, they will also get a range of clickable options for when they'd like to book a meeting, based on the available slots in your calendar. When the person that you want to talk to chooses a section of your calendar, your Google environment will automatically update too.
11. Gmail Offline
Gmail is one of the most popular email solutions on the market today. Not only does it offer the benefits that come from deep integration with the rest of the Google Workspace, but it's intuitive and easy to use too. Additionally, just like the other tools available for enterprises from Google today, Gmail comes with the benefit of being able to upgrade and enhance your email, however you choose.
With extensions for your email inbox, you can add new functionality to your messaging landscape. This could mean unlocking the freedom to draft and send emails whenever you want. Alternatively, it could simply mean that you have more security and privacy for your Gmail experience.
Which Gmail extensions do you rely on every day? Let us know in the comments below! Our Cloud Solutions Specialists at Apps Admins are ready to serve your company's work from home needs.