Sign up for a Free 30 Day Trial of G Suite Business and get Free Admin support from Google Certified Deployment Specialists.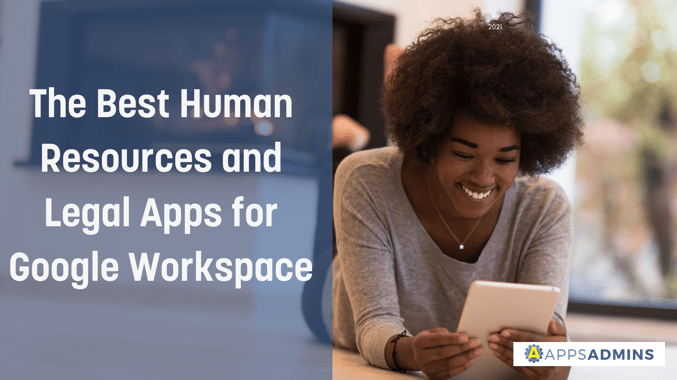 There are a lot of moving parts in a business that entrepreneurs need to keep track of. As well as ensuring that your IT strategy is running smoothly, and that your product development efforts are up to scratch, you'll also need to think about how you're managing your team members. After all, your employees are some of the most valuable assets your business has.

The right HR and legal strategies are crucial if you want to keep your company moving in the right direction. Fortunately, in today's highly digital world, there are applications and tools that can make your HR efforts infinitely more effective.

For instance, the Google Workspace productivity suite comes with dozens of approved integrations specifically designed for HR and legal purposes. To help you invest in the right software for your company, we've put together a list of the top performing apps from 2019, so you can figure out which tools to test in 2020.

Let's get started.
CakeHR
Gusto
Weekdone Weekly Reporting
Appogee Leave
JobScore
Cake HR for Google Workspace
Google App Store rating: 4 (133,079 users)
Quote: "CakeHR has lessened administration and human resource hours spent calculating time banks and has given us a reliability that we previously were missing. Staff love being able to see their vacation / sick accrual as desired. Really love this system!"
CakeHR has designed its own unique software for Google users. The CakeHR software for Google Chrome is an inspirational system, designed to make life and business easier for small to mid-sized enterprises. If you're looking for a solution that will help you to enhance company culture and strengthen brand performance, then CakeHR is sure to get the job done.
CakeHR transfers all the benefits of the CakeHR application for HR and administration into your familiar and easy-to-use browser window on Chrome. That means that you can access key features like performance management tools and recruitment details, without having to switch out of your favorite platform. Features of CakeHR include:
Self-service shift and leave management
Timesheets and scheduling
Performance management tracking
Onboarding and offboarding tracking
Employee database and directory
Asset management features
Expenses management and planning
Analytics and reports
Recruitment
The CakeHR user-friendly interface aligned with Google makes it one of the best Google Workspace apps on the market for HR and legal. You can use CakeHR to get a Birdseye view of your hiring pipeline, and access extra advanced tools like employee engagement tracking, 360-degree feedback, attendance tracking, and even expense overviews. Google Workspace administrators have the option to add the CakeHR environment to their stack and track everything from leave schedule to expenses and goals in the Google dashboard.
Gusto Payroll and HR
Google App Store rating: 4.9 (14,988 users)
Quote: "The software is really easy to use and understand (and feels nice to use) and customer service has been very responsive and helpful every time I've needed it."
The Gusto app for Google Workspace s one of the most highly-rated tools for HR and legal management in the app landscape. Created to assist business leaders with everything from payroll, to benefit management and employee engagement, Gusto has it all. If you're running a business and you need to make sure that you're keeping your talent happy with the right payment and hiring strategies, Gusto has you covered. More than 60,000 small to mid-sized enterprises are already reliant on this tool for its easy-to-use and refreshing approach to HR.
Gusto comes with access to plenty of friendly and accessible customer service whenever you need help making the most of your new app. Additionally, you can use Gusto to automatically manage, file, and pay your local, state and federal taxes. That means that you have one more stress remove from your plate when you're trying to grow your new venture. Features include:
Automatically calculate and file your state, local and payroll taxes
File W2s, 1099s and other forms automatically
Manage your payroll, benefits, workers compensation, 401ks and everything else in the same easy-to-use interface.
Sign into Gusto using your Google account and sync your payroll dates
Track important dates for employees, including anniversaries and birthdays
Never lose track of your small business payroll
Gusto simplifies HR and legal processes for the modern business, so you can focus on growing your enterprise. 93% of customers agree that this Google Workspace application is easier to use than many of the other traditional payroll providers on the market. Additionally, four out of five customers who use the Gusto software say that they end up with fewer errors in their payroll documents after switching to the app. With Gusto, you can cut the complexity of managing payroll down to five minutes of work or less each day.
Weekdone Weekly Reporting
Google App Store rating: 3.8 (396,015 users)
Quote: "Very helpful with the family business, easy to collaborate and review."
Weekdone Weekly reporting for Google Workspace might not be the most advanced tool in the marketplace for HR and legal, but it is a helpful addition to your productivity suite. Essentially, Weekdone give you access to a simple and understandable weekly status report. You can create status reports on everything from how many hours your employees have worked each week, to how much progress you're making towards your sales and revenue goals.
The key to success with Weekdone is making sure that everyone in your team knows to fill out their report and update you on how well they're doing each week. Once your employees have submitted their information, your administrators get a complete overview of insights that are actually valuable to the business and your future decisions. Features include:
Automatic reporting reminders
Measurements of weekly company and team engagement
Tracking for overdue projects and unfinished tasks
Immediate managerial feedback and guidance
Instant task communication
Progress tracking and metric monitoring
This weekly reporting service gives everyone on your team a reminder that asks them a few basic questions about their week's progress. From there, employees can fill out details about their accomplishments and pain points in minutes. Afterwards, you get a report that's emailed directly to the valuable stakeholders you identify in your company.
Weekdone is based around a plans, progress and problems approach to workplace management that has been used internally among leading startups for years. Using this application with your Google Workspace environment is quick and simple, and it could ensure that everyone in your office knows exactly what they need to do each week.
Appogee Leave
Google App Store rating: 4.2 (300,260 users)
Quote: "This is a great tool for our small team (10 ppl). We previously had a pricier and more cumbersome solution; this is a vast improvement. Implementation took a couple of days, but since then we have found it easy to make requests, approvals and reports."
Appogee Leave is another fantastic HR and legal app for Google Workspace that you can find among the most popular solutions in the app store. Appogee offers a leading absence management solution for Google Workspace users which makes it easier for business leaders to track who is available in their company at any given time. You can use this online system to track everything from vacation leave and sickness, to PTO and even maternity.
The easy-to-use interface makes this a fantastic tool for companies who need help keeping track of the constantly moving employees in their workforce. The system comes fully integrated with Google Calendar, and there's access to single sign-on and out of office messaging too. Features include:
Single source of truth for your vacation and leave data
One click approval process for requested leave
Single sign-on supported
Automated out of office messaging
Google Calendar synchronization
On-demand reporting
Simple online booking for end-user leave time
Full integration with Google Apps
Dynamic and customizable tracking features
With Apogee Leave, employees can check how much time off they have to take each time and submit requests in an instant. Line managers have a visual way to track sickness and PTO leave, and HR managers can quickly ensure that employees are available to take over a shift when missing personnel might be an issue. The integration with Google Apps also means that you can simply click to add this system to your domain, and keep Apogee hosted securely on the cloud.
There's even plenty of handy reporting features included with Apogee leave, so you can track things like the number of unpaid vacation days certain employees take, and which times of year you're most likely to have to deal with things like sickness.
Jobscore
Google App Store rating: 4.8 (186,194)
Quote: N/A
Finally on our list of apps for Google Workspace in the HR and legal environment, is a solution that helps business and managers to hire the most effective talent for their teams. JobScore is a recruiting system and applicant tracking application intended to make searching for skilled employees and bringing new people into your team as breeze.
The JobScore application was designed by experienced recruiters to simplify the process of building out your business team with valuable candidates. Within JobScore, you can securely gather and organize applications from potential new staff members, search through resumes, and even track your hiring and firing metrics.
With simplicity at its core, JobScore offers a fantastic opportunity for HR managers and those in charge of employee development. There are already thousands of employers around the world using JobScore to find and recruit talent. Features include:
Simple user interface
Easy access to a professional careers page for your website
Access to multiple job boards with a single click
Request referrals with email and social platforms like LinkedIn
Track applications and capture feedback from your candidates
Monitor your talent pipeline with source and status reports
Keep an eye on the most qualified candidates with resume parsing
Free 30-day trial for all plans
Whether you need to make sure that your job descriptions are going to appear on the right job boards for the kind of talent you need, or you need an easier way to route and track applications, JobScore is there to help. In a dynamic and ever-changing employment industry, today's companies can't afford to waste time on complicated and time-consuming hiring processes. If you take too long to move the right talent down your talent pipeline, they could end up going elsewhere.
JobScore makes it easier to market the latest roles in your applications, request referrals from your existing employees, and keep your qualified candidates close. The 30-day risk-free trial also means that you can test the software before you need to spend a penny on it.
Picking the Best HR and Legal Apps
One of the things that makes the Google Workspace so compelling for today's enterprises, is the fact that it comes with so much flexibility and extensibility built-in. If you can't find what you need in the existing applications available with Google Workspace, like Google Jobs, you can look for the right tools in the app marketplace instead.
Within the HR and Legal section of the app marketplace, you'll find everything you need to find and track job applicants, address issues like employee engagement, and even manage payroll. You might also find an application that makes dealing with taxes a little easier too. If you're ready to take your Google Workspace experience to the next level in 2020, make sure that you check out the HR and legal software we've covered above.
Got some other HR and legal apps we should check out? Leave a comment and a link in the section below.