Sign up for a Free 30 Day Trial of Google Workspace Business and get Free Admin support from Google Certified Deployment Specialists. No Credit Card Required.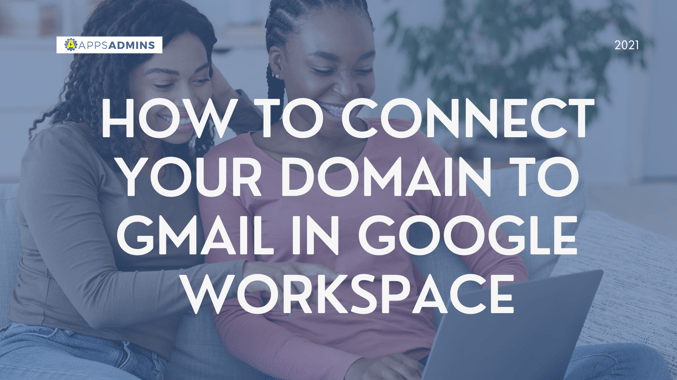 It's common for many first-time domain owners to be unfamiliar with the mechanics of domains, especially their integration with other services like Gmail. For instance, did you know that it's possible to link your domain to your Gmail account allowing you to take full advantage of Google Workspace services?
Ergo, you can connect your domain name to a Gmail address and access it from anywhere in the world, provided you have Internet. Let's say that your domain name is 'yourdomainname.com' and your name is Todd. Google Workspace allows you to create Todd@yourdomainname.com as your email and link it directly to any Gmail account.
If you do not own a domain, you need to create one first before creating a professional-looking email address to utilize the power of Google Workspace fully. This article touches a little about Google Workspace pricing and verifying your domain name but mainly discusses the next step – setting up MX records.
What is Google Workspace?
Google Workspace (or previously G Suite) is a Software-as-a-Service (SaaS) product developed by Google that groups all its cloud-based collaboration and productivity tools designed for businesses, institutes, and nonprofits. It's a monthly subscription platform with three packages: Basic, Business, and Enterprise.
Google Workspace Google Workspace Pricing
Though it seems like most of Google Workspace's features are available for free, its enterprise-level features are not. These include shared calendars, advanced admin controls (such as adding and removing users), two-step verification, optional unlimited cloud storage, and data migration tools to help you transfer valuable data to Google Workspace.
In 2019, Google increased its Google Workspace pricing for its Basic and Business packages. The move was in response to Microsoft Office 365 price changes.
There are three Google Workspace pricing packages:
Basic priced at $6 per user per month
Business priced at $12 per user per month (it's the best value package)
Enterprise priced at $25 per user per month
Verifying Your Domain Name for Google Workspace
To sign up for Google Workspace and start using its services, you must first own a verified domain. This ensures that no one is using your domain name for Google services without your permission. Note that, if you bought your domain name from a Google partner when signing up for Google Workspace, it's already verified.
If you have no clue about the verification process, do not worry. Google Workspace has a setup wizard with instruction on how to verify your domain name based on your domain host.
MX Records
Mail Exchange (MX) records direct your domain's email address to the specific servers that host the domain's user accounts. Thus, to set up Gmail for Google Workspace, you must point your MX records to the Google mail servers.
You can define multiple MX records for a domain, with each having a different priority. Consequently, email is delivered to its destination using the highest priority record. If it's not, the next priority record is used.
You use MX records to verify your domain and set up Gmail as your new professional email.
Setting Up Your Domain's MX Records for Google Workspace
Open setup instructions and use another window or tab to sign in to your domain host.
Update the MX record settings and direct your email address to your Google Workspace account.
If you already have email set up with your domain name, you will start receiving your messages in Gmail instead of your old email provider.
If people already have your email address with your domain name, you should first create their user accounts (using Google Admin console) before setting up your MX records. This allows them to continue receiving emails.
At Google Workspace MX setup, you will find step-by-step instructions for your specific domain host such as GoDaddy™, Enom™, Dreamhost™, 1&1™, among others. However, if you cannot find the instructions for your specific domain host, you can use the general steps detailed below.
Google Workspace General Steps for MX Setup
Open your domain host and sign in to your account. Also, you can get in touch with your domain host's support team to help you set up your MX records.
If you choose to DIY, the next step is to update your domain's MX records. This section may be found in 'DNS Management,' 'Advanced Settings,' or 'Mail Settings.'
Delete any existing records, if you cannot, then change their priority number and set it at 20 or higher.
Add the new Google mail servers' MX records. If your domain host has limited the number of MX records, add the first two records found on this table.
To verify your domain name: Go to Google Workspace Setup Wizard and find the unique MX verification record, copy the entire record and paste it in the Value/Destination/Answer/Target column, and ensure that the record's priority is either set to Low or 15 and higher.
Save your changes.
To start using Gmail, sign in to admin.google.com using your new Google Workspace username and password. Then click on the App Launcher located at the top right corner of your screen. If you face any problems or need help, you can either contact your domain host for assistance or go to Troubleshoot MX records.