Sign up for a Free 30 Day Trial of G Suite Business and get Free Admin support from Google Certified Deployment Specialists. No Credit Card Required.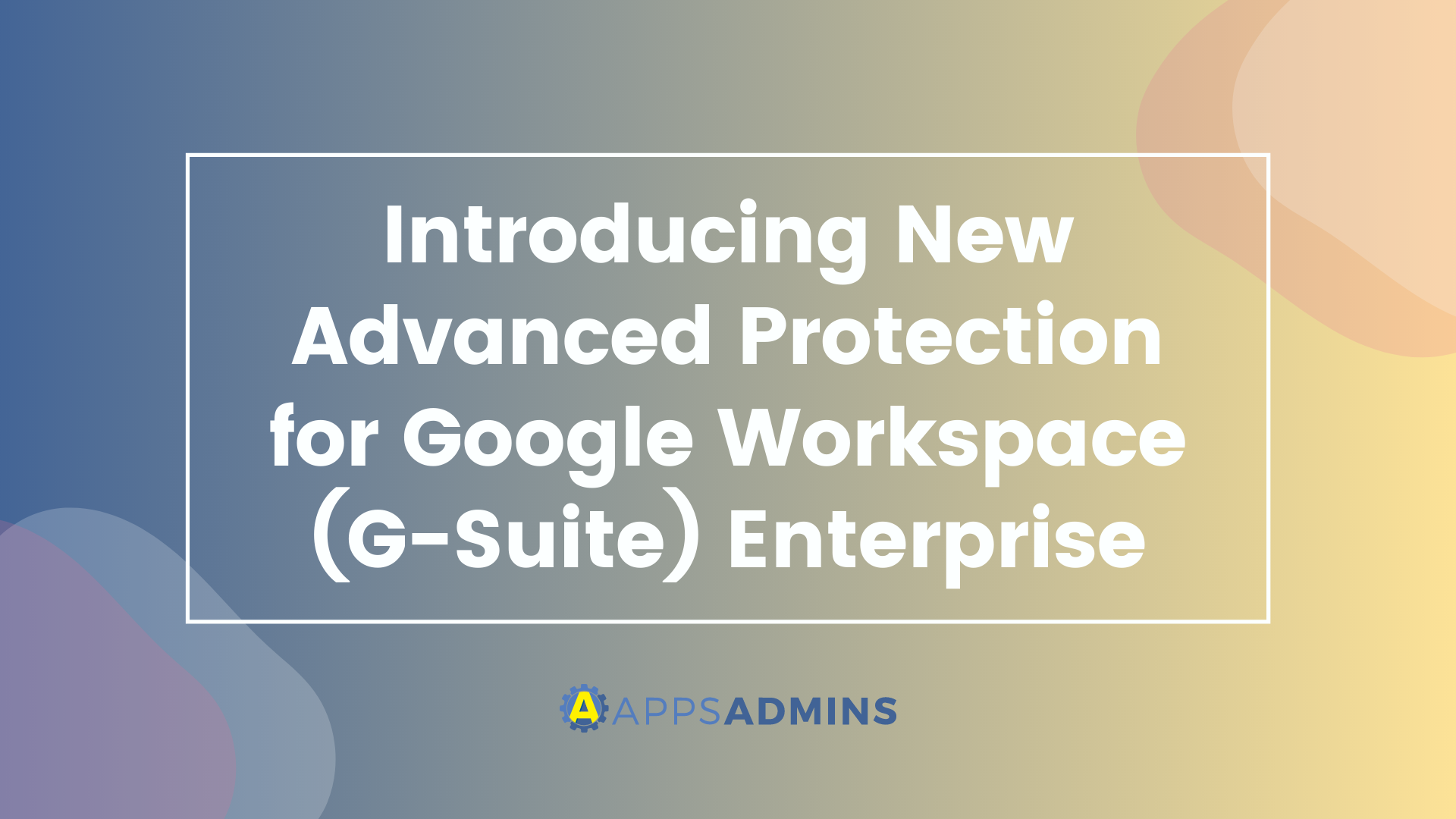 The Google Cloud team is constantly looking for new and improved ways to give their clients access to higher standards of security. After all, when you know that your tools and data are safe, you can spend more time growing and enhancing your core business. Last 2019, the Google team has strengthened user protection for Google Workspace(G-Suite) and GCP users, made threat defense more effective for end-users, and implemented streamlined security administration with a constant stream of new enhancements and product releases.
As Google continues to push forward in strengthening their offering for the enterprise environment, it has announced a host of new security updates. Here are some of the latest security updates announced at Cloud Next 19 in Tokyo.
Advanced Protection for the Enterprise
The biggest update to Google Workspace(G-Suite) this month comes in the form of the Advanced Protection Program for the enterprise. This solution allows companies to safeguard the personal Google accounts of anyone who might be considered to be an "at-risk" individual. The Advanced Protect program for the Google Cloud Platform, Cloud Identity, andGoogle Workspace(G-Suite) customers should give business leaders more peace of mind when it comes to protecting the people in their environment most at risk of targeted attacks.
Users who can benefit from this solution might include IT administrators, employees in security-sensitive environments, and business executives. The program comes with access to a specific set of policies for the users that businesses identify, including:
Opportunities to scan incoming messages for phishing attempts, and other attachments that may contain malicious content
Automatic blocking of access to third-party apps unapproved by administrators.
Enforcing FIDO security key usage, such as the Titan Security Keys or other compatible solutions from Google.
Titan Security Keys and Machine Learning
Speaking of enhancing security in the enterprise, Google has also announced that they will be delivering Titan Security Keys to a broader range of environments, including Japan, Canada, the UK, and France. FIDO security keys include access to some of the most reliable protection options against targeted attacks, phishing, and automated bots, as well as other techniques that might compromise user details in the enterprise. Google launched its own Titan Security Key solutions last year in the US. However, now locations around the world will be able to access these options from the Google Store.
Titan Security Keys will be available to use anywhere that FIDO keys are supported, including the Advanced Protection Program with Google.
Google will also be using machine learning strategies to detect unusual activity in theGoogle Workspace(G-Suite) environment for its users going forward. According to Google, it's now more important than ever for businesses to be able to stay on top of the activity that can impact data security in the enterprise. From now on,Google Workspace(G-Suite) enterprise admins will be able to automatically receive alerts about unusual activity in theGoogle Workspace(G-Suite) alert center. These alerts will take advantage of Google machine learning models that analyze the security signals in the Google Workspace(G-Suite) and Google Drive to detect possible security risks. This service is now available forGoogle Workspace(G-Suite) Enterprise and Google Workspace(G-Suite) education users.
Access to Additional Apps
Another major upgrade that Google has announced recently comes in the strategy that they're using to provide secure access to apps. As companies continue to expand their reliance on SaaS apps in the business space, Google wants to reduce friction for those responsible for maintaining security. Google Workspace(G-Suite) and Cloud Identity solutions enable single-sign-on for apps that use modern identity standards like SAML already, but it's essential to support legacy apps too.
Google has just announced support for password vaulted apps as part of the Cloud Identity roadmap. The combination of password-vaulted and standards-based app support will deliver a broader and more immersive app catalog for users, with seamless one-click access for users, as well as a single point of visibility, management, and control for admins.
Google believes that creating and maintaining secure environments is vital for any business running in the cloud today. The new range of features announced at the Tokyo version of Google Cloud Next will help to strengthen the security solutions available to Google customers.
Ready to get started? Our Cloud Solutions Specialists at Apps Admins are ready to serve your company's work from home needs.