Sign up for a Free 30 Day Trial of G Suite Business and get Free Admin support from Google Certified Deployment Specialists.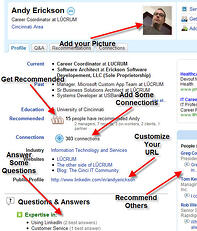 Building a professional profile profile today is important for an Apps Admin. This is the era of the social enterprise and you need to participate. A great profile helps your professional career and your employer's image. LinkedIn allows you to network, find jobs, share ideas with other professionals, and create business opportunities and much more. We all wonder, well what can I do to become noticed on LinkedIn? Where do I start?
Here are the steps to follow to Build Your Linkedin Profile
1.
Complete your Linkedin Profile
Always have your profile up-to-date and always post the recent job experiences, skills, projects, etc. that you've had.

LinkedIn recommends that having a completed profile provides you with a greater chance for networking success, and LinkedIn makes it easy for you to understand how to achieve that completion.
2.
Use Linkedin to
Add Connections
Start adding connections, this could be friends, family, mentors, professors, etc. Anyone you make know so you can start building your network.

*IMPORTANT* There is always going to be someone that knows someone that knows someone.

ADD AS MANY PEOPLE THAT YOU KNOW!
3.
Have a Business Objective
Add in a brief summary about yourself so that people know your experiences and background, and what you are looking for.

If you are looking for a job, write that you are seeking an opportunity for employment.
4. Getting
Recommendations on Linkedin
Try to get recommendations from your previous colleagues, bosses, and or mentors to write you a recommendation about your work.
You should always return the favor! Write a recommendation back, and always write recommendations for others even if they have not yet written one about you.
5.
Use Linkedin for
Networking with Other Apps Admins
Always network, whenever you can! Networking opens up doors for employment, business opportunities, and new ventures.
REACH OUT! Do not be afraid to reach out to people whenever possible. Seek advice, ask for career opportunities, and build relationships.
HAVE FUN with NETWORKING!
LinkedIn has become the # 1 social platform for connecting with professionals across the globe. LinkedIn has helped advance people's career, expand their network, and branding to create more opportunities to become successful. That is why it is important to create a strong profile to create these opportunities in the professional network.
Want some instant Linkedin connections?
Join the Certified Google Apps Administrator Group on Linkedin
.