Sign up for a Free 30 Day Trial of G Suite Business and get Free Admin support from Google Certified Deployment Specialists.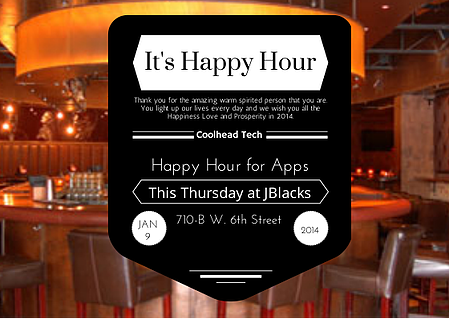 Updated: January 3, 2014
Coolhead Tech, one of Austin's local Google Apps Partners, is inviting local businesses to join them for a series of networking and social events beginning this Thursday, January 9th, 2014 at the downtown Austin location of J. Black's Feelgood Kitchen and Lounge.
Join Coolhead Tech and some of Austin's most collaborative local businesses in celebrating 2014 with a Happy Hour for Apps on Thursday at JBlacks on West Sixth.
Name That Jingle and win Front Row Seats to the upcoming KUTX Birthday Party featuring a "killer triple bill" - Neko Case, Iron & Wine and Thao and the get down stay down. Click Here to Enter the Happy Hour Jingle Contest...
Why Google Apps Happy Hour?
Why not? Many of Austin's leading companies are using Google Apps to build and grow their businesses. Expand your business network, Learn what Google Apps can do for your business, meet with companies that are successfully using the program suite, as well as mingle with enthusiasts and techies.
Austin Happy Hour for Google Apps Businesses
Thursday January 9, 2014

JBlack's Feelgood Kitchen and Lounge
Sponsored by Coolhead Tech
What are Google Apps?
Simply "they are the tools your employees need to succeed." You may have used some of the consumer versions like Gmail, Calendar, Docs, Drive, and others, but Coolhead's team offers customized Google App solutions specifically for your business.
Why Google Apps for Business?
The benefits of using Google Apps for business, administered by a professional team, are many fold, and include:
Increased storage amounts for mail and docs
Mobile sync - controlled by an administrator enables greater security
Outlook interoperability - maintain the look and feel of an Outlook skin while users are getting comfortable with a web-based email system
Support - you'll have a team of experts behind you that can respond to questions and problems quickly and professionally
Google Video - think of it as an "in-house" "YouTube" which can be utilized for company videos, training, conferences
Security - Google Apps offer sophisticated levels of security other programs cannot achieve
Reliability - Google Apps have a service pledge of being "up" 99.99 % of the time
Coolhead Tech
Since 2008, Coolhead has been Austin's leading supplier and consultant of cloud-based tools for building your business. They can manage your migration from other programs to Google Apps, administer, manage, and service your cloud-based services as well.
Another in-demand service from Coolhead is Hubspot, a completely integrated tool for managing your online presence. Hubspot enables you to manage:
Your blogging - helps you publish compelling and easily digestible content
Email campaigns - interact, inform, and offer products/services to your mailing list
Landing pages - good management of your landing page enables you to turn prospects into sales
Social media - Hubspot easily interacts with social media sites to assist with information flow
Leads management - content management helps you personalize material specific to a lead prospect
Marketing analytics - a powerful suite of analytic tools helps you maximize your marketing ROI
Monthly Social / Networking Events
Joining the monthly Coolhead Tech events will enable you and your company to learn about cloud-based apps, productivity, in an informative and relaxed atmosphere. The events are perfect no matter what stage your company has achieved. CEOs, CFOs, CTOs will all enjoy and benefit from networking with their Austin peers and learning about turnkey managed cloud services.