Sign up for a Free 30 Day Trial of G Suite Business and get Free Admin support from Google Certified Deployment Specialists.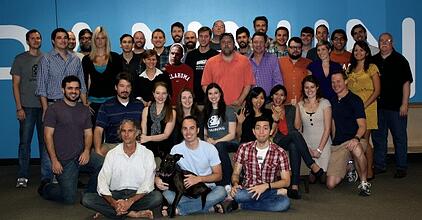 Google Apps has provided new and innovative ways for businesses to get their productivity tasks done, all from within the cloud. When many of us think of the cloud we think of secured data with built in redundancy. Although google does offer these kind of features, they're not immediately imbedded in to the basic Google Apps package. If you want full data backups and redundancy available you're going to have to invest in an additional product to get it. The good news is that there are plenty of options out there, and the cost is just a fraction of what you would spend on similar technologies outside of the cloud.
Today we're going to talk about the features and benefits of one of our favorite apps for business in the Google Apps Marketplace. That app is Spanning Backup for Google Apps.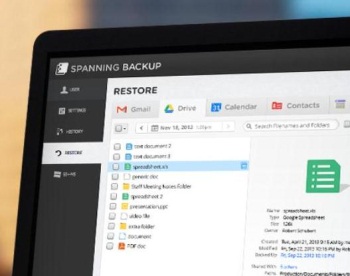 Spanning Backup touts itself as 'the most trusted enterprise backup and restore solution', and on this the market seems to agree. With an average 5 star rating on the Google Apps Marketplace (the highest possible) and hundreds of endorsements from business customers within the same marketplace, this is a product that can live up to the hype and won't let you down.
Before we get in to the features, let's talk a little bit about why you would need a backup. Unless you currently have another backup solution running with your Google Apps for Business system, you're at risk of data loss by accidental deletion or in rare cases, server issues from Google's end. There is also the issue that if your users are going through hundreds of gigabytes of data each month, items that are deemed of less importance may be removed to open up storage. A backup service eliminates problems like these by securely storing all of your data, which is then available for restoration at any time.
So what exactly happens with your data? Spanning Backup offers a system where you can set timed backups depending on the needs of your business. Users can also backup their data manually after completing important projects or saving sensitive information. The benefits of these backups go beyond simply restoring the data. In complex billing or legal cases, backed up data could be essential to protecting the interests of your business and your clients.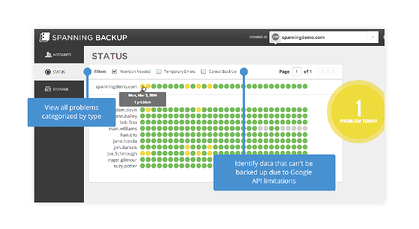 Everything that you store through Spanning Backup is securely stored in the AWS cloud. AWS is an industry leading cloud solution provided by Amazon. With the Spanning Backup system you are protected with Certification, TRUSTe security seals, and of course 256bit AES encryption with keys that are unique to individual objects. You won't ever need to worry about sensitive information being intercepted by third parties. Data is encrypted before being transmitted, and all data channels are then secured with SSL while passing through the cloud.
Secure backups would be useless if they weren't able to be easily restored in an intuitive way. One of the things that we love about Spanning Backup is that even a new Google Apps user would be able to easily learn and use this system every day. There are no complex settings or interfaces, and everything right down to the folder structures remain intact with a backup. Even after restoration, things remain just as the user remembered them. Your business will never have to worry about running out of storage either, because your spanning solution grows along with your business, and there are no additional charges no matter how much data you have stored.
Cloud computing, productivity, and storage solutions are creating a big impact on business today, so a secure backup service is essential to get the most from these new technologies. Spanning Backup provides one of the easiest interfaces, some of the most powerful and comprehensive backup features, and is available for prices as low as $35 USD per user, per year. This app is one of the most affordable and compelling Google Apps backup solutions available on the market today.