Sign up for a Free 30 Day Trial of G Suite Business and get Free Admin support from Google Certified Deployment Specialists.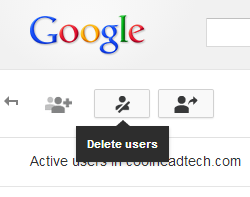 Two of the most common tasks for a Google Apps Admin is creating and deleting user accounts. While seemingly simple ("Do I just choose Delete?") Apps Admins should discuss a forming a company procedure that can help protect your organization and domain.
What Happens

When You Delete a user in Google Apps
When a user is deleted from the domain, all mail messages are lost. Calendar events are lost within 5 days, shared calendars need to be given Make changes and manage to another user. Drive documents and files are lost within 5 days as well unless the Owner is set on the files to an active user. Google sites will remain, and can be removed by an administrator. Data from non-core apps like youtube is also deleted. User will no longer be able to log in to google using their domain login credentials.
Before you delete a user's account in Google Apps:
Transfer ownership of the users apps to another user. Shared calendar that you'd like someone else to now manage, give the other user permission to "Make changes AND manage sharing" on the shared calendar. Transfer ownership of all documents to another user by setting the sharing settings to Is Owner. Remove any administrative privileges from the user for any apps and from the domain. If you want to retain messages from mail, or other data on the account, backup services like spanning backup can retain data from the account prior to deletion for access after the user is deleted.
How to delete a user account in Google Apps
Sign in to the Google Admin console and click the Users Button
Check the box next to the user (or users) you want to delete.
Click Delete users
When prompted and ready, confirm that you want to delete the user.
You can restore a recently deleted account for up to five days. After this period, deleted accounts can't be recovered, through information in the account may be lost.
Restoring a deleted user in Google Apps:
In order to restore a recently deleted user, you must have super administrator privileges, the username must not match a currently existing group, username, or alias and you must have enough licences to add another user to your domain before restoring a user as well.
Once all of this has been verified, sign into the Google Admin console
Click Users.
Open the Active users menu at the right and choose Recently deleted users.
Check the box next to the user you want to restore (note that you can restore only one user at a time).
Note: If the user doesn't appear in this list, the account has been permanently deleted and can no longer be restored.
Click Undelete User.
If you have multiple organizational units, select the organization where you want to assign the user.
To verify that the user account has been restored, return to Active users and select the organization you added the user to. The restored user account should appear in this list within 2 hours. If the user was suspended at the time the account was deleted, the account will be restored as suspended. In that case, choose Suspended users from the menu.