Sign up for a Free 30 Day Trial of G Suite Business and get Free Admin support from Google Certified Deployment Specialists.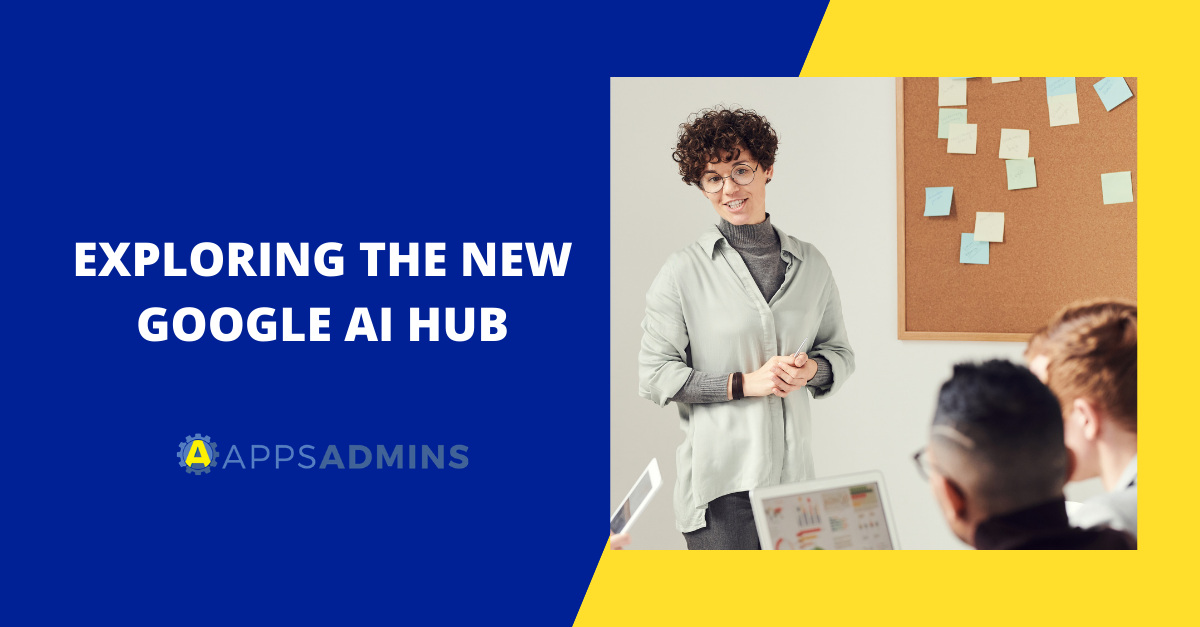 Google loves investing in the latest and most exciting tools in the digital market.
For many of today's businesses, one of the most disruptive solutions of all is artificial intelligence and machine learning. Fortunately, Google has long been committed to unlocking the exciting opportunities for AI. If you're familiar with the Google Cloud Platform, then you'll know that there's a vast range of tools available to access in today's GCP environment.
Another great thing about Google is that the company frequently listens to its customers when deciding what to focus on with their next innovations and tools. For instance, Google recently noted that its customers had been telling it about the challenges they frequently face when managing a growing number of machine learning and AI assets in the business landscape. Because of this, the GCP was inspired to develop its "AI Hub."
Upgrading the Google AI Hub
The AI Hub was Google's attempt to foster better collaboration and the re-use of critical applications and assets in the machine learning environment. In April 2019, around the time of Google Cloud Next, Google announced the open beta of the AI Hub. Since then, the company has been working consistently to improve their AI centre.
By the beginning of September 2019, the GCP had a host of new upgrades to announce for the AI Hub, including the arrival of a new homepage, intended to make accessing your machine learning assets easier than ever. The new AI hub homepage offers users instant access to all the most popularly used and shared assets in their environment. The system also features plenty of access to content that might help app admins to improve their work.
The updated content library on the AI Hub homepage includes more than 70 new assets from partners and leaders in the ML landscape. For instance, you can check out the TensorRT-optimized notebook for BERT, or the Pluto7 strategy for using Tensorflow data. There's also a bunch of new ML assets from Google too, such as AI workshop experiments, image classification documentation, and training strategies.
Improving Collaboration in the AI Hub
The latest updates to the Google AI Hub aren't just there to make managing your assets easier. Google also believes that these solutions will help people in a workplace to interact and collaborate on ML strategies more easily too. For instance, via AI Hub, users can now share trained ML models, notebooks, pipelines from Kubeflow, and more in a flexible environment.
All you need to do is add a collaborator by entering their email address and choose the permissions that you want them to have. The people who you want to "view" your content only will also be able to fork the asset that you share by downloading or opening a copy. However, these viewers won't be able to change or edit the version that you store in the AI hub.
To open the new sharing center, just click on the "Share" button on your asset details page or click on the sharing icon next to your asset on the AI hub page you want to share. You'll also be able to quickly copy and paste any of the public assets you want to share by using an URL. This means that you can send information to colleagues and other people over email or social media in a matter of seconds.
Go and Check Out the AI Hub
Other updates to the AI hub released recently include new Machine Learning taxonomy options that allow you to categorize or label your assets using a broad list of data types. There's also the option to "favorite" the assets in your hub that are most relevant to you and your team so that people in your group can find and use them as quickly as possible.
The latest updates to the AI hub are a great insight into the continued effort that Google is putting into making its ML and AI solutions more accessible.
Sign up for a Free 30 Day Trial of Google Workspace Business and get Free Admin support from Google Certified Deployment Specialists!