Sign up for a Free 30 Day Trial of G Suite Business and get Free Admin support from Google Certified Deployment Specialists. No Credit Card Required.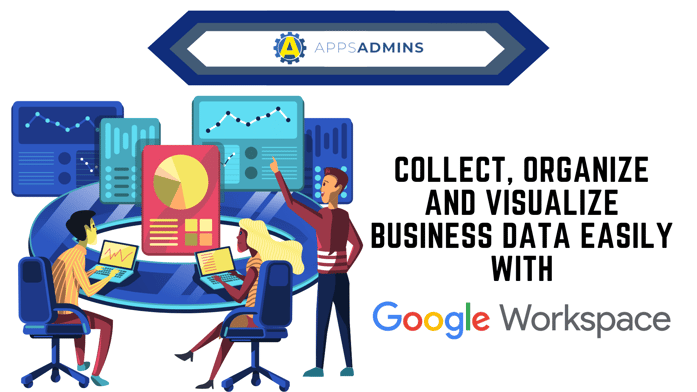 These days, if you want to make intelligent decisions on behalf of your business or brand, then you need to have access to the right data. There's a reason why data has become the most valuable asset in the world. The more information you have, the easier it is to make confident choices about your company's future, your product development, and more.
Of course, to really get the most out of the data world, companies need to know how to access and use the right insights to support their growth. Unfortunately, many companies are still struggling with siloed business reporting across multiple organizational units - leading to fragmented and misaligned data insights. That's where Google Workspace (G-Suite) can offer something a little more impressive.
With Google Workspace (G-Suite) and Google Sheets, you can get more control over your data insights. Google recently shared some easy ways to transform your information management on Google Workspace (G-Suite).
1. Collecting Crucial Data
The first step in making the most of your data environment is to start collecting all of the information that might have an impact on your future decisions. This is one of the most taxing parts of data analysis because it often requires you to manually import your data from other tools, which can mean translating and creating different file formats.
However, Google Workspace Sheets comes with built-in solutions that make migrating and importing data from your company into the cloud as simple as possible. You can sync data across spreadsheets or import information from BigQuery to a Sheets-based master database depending on your needs. Google also has add-ons to offer for popular CRM tools like Salesforce.
2. Preparing Business Data
Once you've collected all of the raw data that you need, the next step is to sift through everything you've gathered and make sure that it's properly organized. After all, the organization is the key to getting accurate insights. Fortunately, Google offers plenty of advice on how you can prepare your data spreadsheets for analysis.
For instance, you can remove duplicate data using Sheets that automatically remove rows that contain the same information as other rows. The system will also automatically get rid of extra spaces and organize rows and columns on your behalf by adding checkboxes. All you need to do is click on Insert > Checkbox to start adding checkboxes to your data.
You can also establish a key categorization setup for your spreadsheet, splitting raw data into rows and columns depending on how you want to view your information.
3. Analyzing and Visualizing your Data
Finally, some of the work that you'll need to do with your data will involve a complex analysis of your information. For that, you're going to need the insight of a data scientist. However, it's important to ensure that you also have the right tools in place to help your staff members understand and explain what your day-to-day data says about your company.
Sheets can help you do this incredibly quickly, with up to 400 formulas to choose from to assist with things like creating pivot tables, crunching numbers, and understanding data insights. You'll also be able to automatically create pivot tables if necessary.
Once you're ready to share your data insights, you'll also be able to take advantage of all the benefits that come with using Google Workspace (G-Suite) as a collaborative toolset. The Sheets and Docs in your cloud are available to co-edit at the same time as your coworkers. Plus, you can assign tasks and make comments on sheets to keep people up-to-date too.
Refreshing the data in your sheets and slides only takes a click, which means that you can save serious time on otherwise exhausting and time-consuming manual updates. Whether you're co-editing with friends, or monitoring changes made to data within individual cells through your version history, Google Workspace (G-Suite) makes handling data insights easy.
According to Google, in today's data-focused world, everyone should have the power to make sense of their data insights as quickly as possible - regardless of whether they have background knowledge in data science.
If you need help optimizing your Google Workspace (G Suite) or you want us to do the work for you, reach out to Apps Admins today and get growing!