Sign up for a Free 30 Day Trial of Google Workspace and get Free Admin support from Google Certified Deployment Specialists.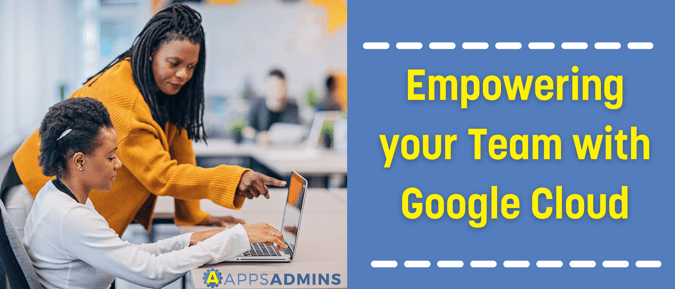 Google Workspace is easily one of the most popular productivity suites in the world today - but have you ever wondered what makes Workspace so compelling? As Google's ultimate package of intelligent applications and tools, Google Workspace was initially known as "Google Apps" until 2016, when a rebrand drew new attention to the possibilities of an enhanced business management solution.

Here at Apps Admins, we recommend Workspace to any mid-sized enterprise that needs more control over their data, better support for their team, or a new way of accelerating their digital transformation.
Not sure if Google has the right toolset for you? Here are the biggest benefits of getting started with Google Workspace.
It's Simple, Compatible and Reliable
Today's business environments are growing increasingly complex, which means that your teams need a productivity workspace that's simple and accessible if you want any chance of driving adoption. According to Google themselves, the average team member uses about 36 cloud services a day at work, which means you need a way to streamline all of this activity.
The popularity of applications in the Workspace like Gmail and Google Docs means that some of your team is probably already familiar with Google products. However, the good news is that even if they're not, Google is continuously expanding in terms of compatibility. Not only does the Google Workspace have one of the most flexible systems, available to access on any device of your choosing, but there are countless third-party add-ons and integrations available too. In 2018, Gmail even expanded their partnerships with Microsoft to make it easier to work from the world's favorite office suite.
Not only is Google Workspace incredibly simple and easy to use, regardless of your existing tech, but it's reliable too. Google offers one of the best up-time guarantees around, exceeding 99.9%.
Google Workspace Security is Second to None
Another significant feature of Google Workspace is its security. Built atop the Google Cloud Platform, Google Workspace offers some of the highest protection on the market, which may be why it's currently the option of choice for brands like Whirlpool, Verizon, and HP. Google Workspace Admin also means that you can control how all of your data is managed, view reports and control access to tools from mobile devices. Ultimately, you have everything you need to keep your company safe. Some of the security features of Google Suite include:
Certifications, Assessments, and Audits from third parties
Encryption for email in transit
Data retention
Privacy (Google doesn't collect or use your data for advertising)
Transparency via insightful Google reports
Now that cybersecurity is more important than ever, Google is constantly delivering new safety options, including instant alerts for potential breaches, and two-factor authentication for all of your Google Workspace users.
Endless Options for Team Collaboration
Collaboration is probably one of the biggest buzzwords in the business world today. Even before it was known as Google Workspace, Google's productivity platform was delivering new ways for people to collaborate over the internet, whether they were in a remote working environment or not.
Because Google Forms, Google Slides, and more all work through the Google Cloud, any edits made to your documents or projects are available to see in real-time, and the built-in chat features mean that you can brainstorm or communicate with ease. Some of the most popular collaboration tools include:
Google Forms: Countless businesses use Google forms to collect relevant information from their employees and customers. Google Forms can deliver useful data quickly, which you can then evaluate further with Google's AI options.

Google Slides: The ultimate cloud alternative to Microsoft PowerPoint, Google Slides gives you plenty of ways to share useful presentations with your team members and get their instant feedback too.

Google Docs and Sheets are tools that most companies use on a daily basis. These services allow you to edit and create spreadsheets and text documents in your browsers and collaborate on those documents with your teams.
Streamlined and Reliable Communication
Gmail is one of the most popular email services available today - and it's the foundation of Google Workspace communication package. If you already use Gmail, like many people do, then you'll already know how much more streamlined this solution is compared to other email options. However, if you access G-mail as part of Google Workspace, then you'll unlock a host of new features too.
Not only does business-level Gmail give you a secure and private email which you can customize with your domain name, but it also gives administrators the option to manage communication profiles throughout their entire enterprise. Gmail comes with 30GB of storage in the standard version - twice as much as the free option, and you can access it on any device, without necessarily needing an internet connection. Google is even experimenting with AI-infused smart reply features to make responding to messages quicker!
Of course, Gmail isn't the only communication option to consider in the Google Workspace portfolio. You can also elevate those all-important conversations you have each day through video and voice. Google Hangouts is Google's next-level communication solution, split into two sections: Chat and Meet:
Google Hangouts Chat was released as a Slack competitor in 2018, and it provides companies with a dedicated enterprise workspace where they can enjoy secure 1:1 instant message and group conversations. You can also build-out your Hangouts Chat experience with third-party apps and Google bots.

Google Hangouts Meet is the video and audio-conferencing solution from Google. Simple and effective, Google Hangouts Meet is fully integrated with the other applications in Google Workspace, so you can instantly set up and join a meeting in your calendar or click to enter from an email invite..
Powerful Productivity as Standard
Ultimately, Google Google Workspace was designed to bring more productivity to the modern workforce, and it does that with some serious finesse. No matter which of the three plans you choose, you'll have access to endless solutions to make your business run more smoothly. For instance:
Gmail - the most popular email client in the world with an incredible 26% market share. Billions of users can't be wrong. Gmail will help you to connect with clients and coworkers more effectively every day.

Google Calendar: Most companies couldn't live without an effective scheduling and calendaring solution to keep them organized. Google Calendar is one of the most reliable in the market, notably because you can launch calls directly from your calendar.

Google Keep: One of the best apps that people overlook in the Google Workspace, Google Keep helps you to manage your day by giving you a secure place to make notes. Think of it as an alternative to Evernote.
Complete Admin Control
Finally, Google's Google Workspace ensures that you have everything you need to enjoy absolute control over your workforce and the apps that they use each day. The Admin Console gives business owners complete access to all the services they need to manage on a daily basis. You can use this system to do everything from managing devices, to configuring business security stings, adding new groups and users and so much more.
If you're a bigger business looking for extra support to keep everything in your organization running smoothly, then the Admin side of things comes with even more help at an Enterprise level. On the Business and Enterprise plans, you can access applications like:
Cloud Search: Manage the crucial information and documents in your business with ease by searching across all of your company's content instantly using Google Cloud Search. You'll be able to gather information from Google Slides, Docs, Sheets, and even your calendar in no time.

Google Cloud Vault: Protect yourself from the unpredictable with the impeccable Google Cloud Vault service. With Google Vault, managing, searching, retaining and exporting details is easier than ever.
Are you blown away by the possibilities and potential that Google Workspace has to offer yet? You can learn more about the many different features of Google Workspace, and what they can do for your business by speaking to an Apps Admins consultant today. We'll teach you everything you need to know about making the most out of Google Workspace!