Sign up for a Free 30 Day Trial of G Suite Business and get Free Admin support from Google Certified Deployment Specialists.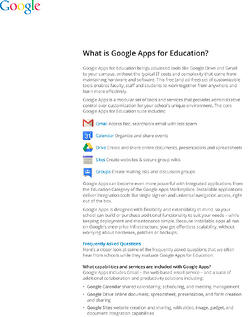 Google Apps for Education can bring advanced tools like Gmail and Google Drive to any campus without IT costs and complexity of maintaining hardware/software. The free set of customizable tools help the faculty, students and staff together from any place any time effectively. These tools also provide administrative control over the school's unique environment:
Gmail: access fast and searchable email.
Drive: create and share online documents/presentations and spreadsheets.
Sites: create and share websites.
Groups: create mailing lists and discussion groups.
Calendar: organize and share events.


These Apps can become more powerful with integrated applications from Education category of Google Apps Marketplace. All Google Apps are designed with flexibility and extensibility in mind. Schools can purchase additions functionality to suit needs without worrying about patches, backups and hardware as these apps run on Google's enterprise infrastructure.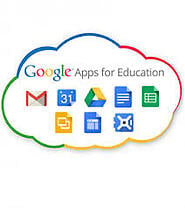 One can pick and select the services in Google Apps suite which one would like to add in the domain. Google Apps Education edition is free and is available at no charge for the non-profit educational institutions around the world. This is the reason why thousands of institutions in over 146 countries are using Google Apps for Education. Google also offers training materials and documentation to help train the users so that they can take full advantages of the services and tools. There are also online resources like user guides, videos and templates.
Google Apps for Education is also very reliable as Gmail, Google Calendar, Google Talk, Google Drive, Google Sites within the suite are available at all times. All data created and stored within Google Apps will be available until and unless one removes it. There are online tools that can help in import or export and download of information from all these apps in case one wishes to modify and remove the data. After an account is deleted, all data associated with that account will also be deleted.