Sign up for a Free 30 Day Trial of G Suite Business and get Free Admin support from Google Certified Deployment Specialists.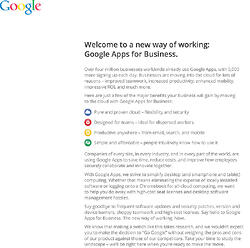 Here's a good comparison of Google Apps and MS Office 365. Both Office and Google Apps for Work allow cloud benefits that include improved teamwork, increased productivity, enhanced mobility, impressive ROI and a lot more. The major benefits any business can reap from moving to cloud with Google Apps in comparison to Microsoft 365 are included in this PDF.
Flexibility and Security with Google's True Cloud Implementation
Google Apps for business offers 100% cloud computing with no client software to install or maintain it. Unlike Microsoft 365, Google Apps does not require desktop installation. Also, Google Apps automatically updates itself unlike Microsoft that requires patches and regular manual updates. Google Apps also have a variety of third party apps and gives platforms with proven reliability. It is also built on top of a global and highly scalable platform that allows flexibility to millions of users. Microsoft on the other hand, does not offer direct provision of third party apps, nor is offers public reporting of its reliability statistics and it built on traditional client service architecture.
Robust and Usable Online Collaboration
Ideal for dispersed workers because it is designed for teams: Google Apps gives real time collaboration across all its products and is about teamwork since everything can be shared. It also builds innovative features that could bring social awareness in the products. Whereas, Microsoft 365 has few co-authoring abilities and each of its products has a different requirement which leads to a limited sharing platform. Office 2010 is not build with social networking in focus.
More Productive from Anywhere with Google for Work
From email, search to mobile: Google Apps for Business is designed to work consistently on any web-enabled device like smartphones, desktop or tablet. It also includes mobile apps for Gmail and docs for better user experience while being easy to use as it offers mobile device management without additional costs. Microsoft 365 allows users to first have Office Mobile 2010 to access its mobile capabilities. It also offers ActiveSync mobile management visa Exchange Online only.
Simple and Affordable
Google Apps for Business cost $50 per user per year only and provides proven deployment tools and training assistance to customers. It also has 24/7 live support. Google Data Liberation tools also allow users to extract all data in multiple usable formats. Whereas, Office 356 has a complex array of licensing options, offers support to only those customers that purchase Enterprise version of the platform. It also provides data portability to only end user discretion per product.