Sign up for a Free 30 Day Trial of G Suite Business and get Free Admin support from Google Certified Deployment Specialists.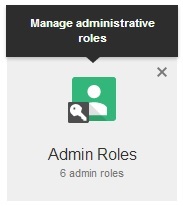 A Google Apps super Administrator can choose to assign additional admin roles to other users in a Google Apps domain. Reasons for granting other users Admin privileges include having a backup, sharing the workload or breaking up responsibilities based on company departments other than just IT.
From the Google Apps Control Panel Select Admin Roles from the dropdown menu or dashboard.
If you don't see the icon for Admin Roles, check the More controls link at the bottom of the page.
The Admin Roles Page in the Google Apps Control Panel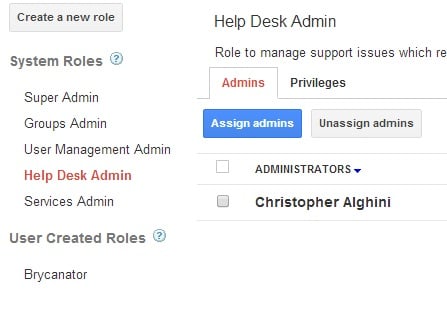 Google Apps includes 5 pre-defined Administrator levels which are listed on the left on the Admin Roles page. As the Super Administrator you have all privileges including setting up custom Google Apps Admin levels.
Create a Custom Google Apps Admin From the Admin Roles page
Click Create a new Role
Enter a name for the Admin role and a description.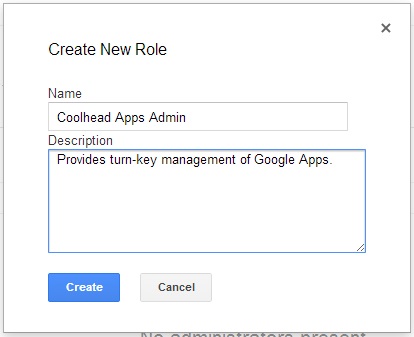 Click Create.
In the Create a new role page you can select the privileges to assign to your custom Apps Admin role.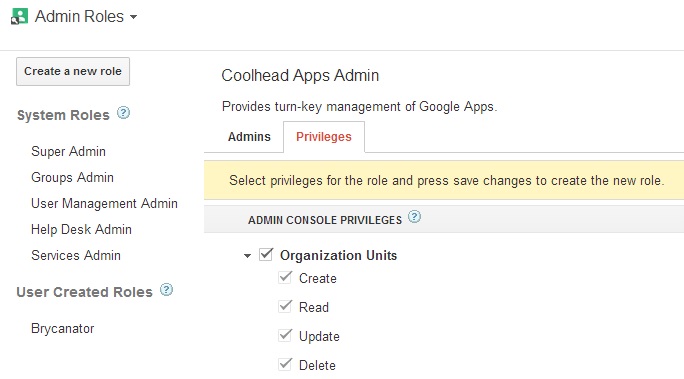 Click Save to create the new Google Apps Admin.
Assigning New Apps Admins in Google Apps
Select a Admin system role from the list of Admin roles on the left.
Click the Assign Admins button.
Start typing the email address (in your domain) of the user you'd like to assign the Admin role to.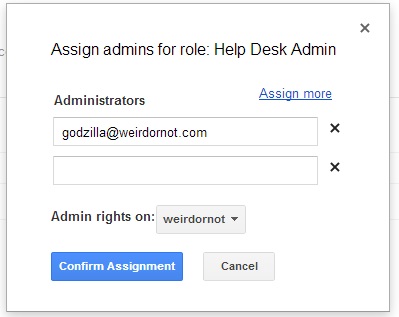 You can assign admins to specific Organizations. Select the Organization for Admin rights and click Confirm Assignment.
Services Admin
The Google Apps Services Admin can manage all of the Products services and devices in your domain.
Turn Services On or Off

Adjust settings and permissions of Apps

Create custom service Addresses (ie mail.coolheadtech.com for Gmail)

Manage Chrome and mobile devices like iphones,ipads & android devices.
The Services Admin in Google Apps is ideal for Human Resources or the department responsible for provisioning office resources
Help Desk Admin
Hurray for the Help Desk Admin! The Help Desk Admin can help regular users reset their password.
Reset User Passwords

View Google Apps User Profiles

View Organization structure of your Domain
User Management Admin
The User Management Admin in Google Apps can access and assist with almost all User related issues in Google Apps.
Create, Rename and Delete User Accounts.

Change User Passwords

View User Profiles & Organization Structure

Perform Daily User Management Activities
Note: A User Manager (or any other Admin in Google Apps except the Super Admin) does not have any privileges over other Admins.
Groups Admin
Google Groups is one of the most powerful of Google's Business Apps. It's also one of the most complex to manage, especially in larger organizations. The Groups Admin has full control over your organization's Google Groups.
Create and Delete Google Groups

Add, Manage and Delete Members of Groups

Manage Access Settings and Moderation for Groups
Super Admin
Every Google Apps Domain needs at least 1 Super Administrator. Larger organizations may want to consider a secondary Super Admin for emergency recovery.
Exclusive Super Admin Privileges in Google Apps:
Create and Assign other Admins
Reset Administrator Passwords
Restore Deleted Users
Modify another Admin's settings
View a User's Calendar data.
You can mix and Match Google Apps Admin Roles to assign multiple areas of responsibility to one person. This is a preferred method over assigning Super Admin Privileges to multiple users.