Sign up for a Free 30 Day Trial of G Suite Business and get Free Admin support from Google Certified Deployment Specialists.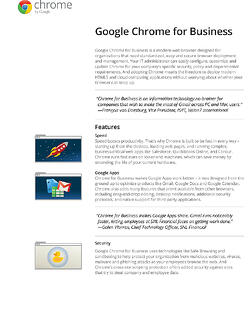 Google Chrome for Business is a web browser designed for organizations that require standardized, secure and easy browser deployment and management. The user's IT admin can configure and customize or even update Chrome for the company's specific security policies. With Google Chrome, a company can also deploy modern HTML5 with cloud computing applications.
Google Chrome provides the following features to the users:
Speed: Chrome helps boost productivity with its speed. One can access desktop, web pages very fast and also run complex business critical web apps like Concur, QuickBooks Online and Salesforce with ease.
Google Apps: Chrome for Business makes Google apps work even better because it is designed to optimize products like Google Docs, Gmail and Google Calendar. It also has additional features like desktop notification, security protocols and support for third party applications.
Security: Google Chrome for Business uses technologies like sandboxing to protect the organization from malicious websites and viruses.
Simplicity: Chrome for Business is very easy to deploy and manage because the IT admin can easily customize Chrome.
Customization: Google Apps Marketplace has hundreds of applications that can integrate business processes and make Chrome very useful to running one's business.
Upgrades: With Chrome for Business, there is no need to neither upgrade OS nor buy expensive client software to improve security and performance. Chrome even provides phone and email supports for Google Apps for Business customers.
A business can control updates and customize deployment with full support for managed group policy and authentication protocols. Google Chrome for Business also comes with Chrome Frame – an Internet Explorer plugin that can handle web pages in Chrome so that employees can access legacy applications which can only work in earlier browsers.