Sign up for a Free 30 Day Trial of G Suite Business and get Free Admin support from Google Certified Deployment Specialists.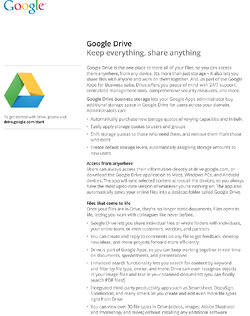 Google Drive allows one to store all files so that one could access them anywhere and anytime. It also allows sharing of the files so that working on them with someone else becomes easier. Google Drive is a part of Google Apps for Business suite and thus, offers 24/7 support with centralized managed tools. With Google Drive, the IT administrators can purchase new storage capacities in bulk for more user, easily apply storage quotas, shift or remove storage quotas and create default storage level.
Users can access their files directly from drive.google.com or can download Google Drive application on their devices. The app will sync the content on all devices and also create a desktop folder called Google Drive. Files that are in Drive are no longer static documents.
They come to life because:
Google Drive allows sharing of individual files or whole folders with others so that they can be worked on.
One can create and reply to comments on any shared file to get feedback.
Since Dive is a part of Google Apps, one can also work on other documents, spreadsheets and presentations.
One can utilize enhanced search functionality to get to content faster.
A variety of file types can be edited as third party apps are also integrated.
More than 30 file types can be viewed in Drive such as images, videos, Adobe Illustrator etc without installing their respective software.
Google Drive is a safe place to store the files. The files are encrypted when they move between Google servers and browser. The two step verification helps against unauthorized access to the user's account. Since Google Drive data is also replicated in multiple data centers, they will always be safe and accessible with 24/7 assistance.
Google drive business storage makes it easy to buy storage. When users reach limits, the IT admin can buy more storage to as much as 16 TV. Any Google Apps for Business domain admin can buy Driver business storage after which the admin can activate storage directly from control panel. The admin can also assign or un-assign storage quotas to users within groups – which can also be monitored through control panel. If however, the limits are exceeded, the admin will have to assign additional storage as no new files would be uploaded. On deleting a user, the ownership of the documents can be reassigned to other user in the domain. Google Drive also gives admins the right to restrict users from downloading or syncing from desktop apps or sharing files outside domain.