Sign up for a Free 30 Day Trial of G Suite Business and get Free Admin support from Google Certified Deployment Specialists.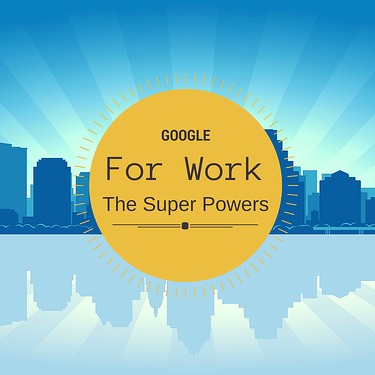 Today Google announced "Google for Work", a transformation of the Google Enterprise team which includes Google Apps for Business Partners like Coolhead Tech. The change reflect's Google's growing presence in the workplace and vision of working the way we live. Coolhead is among the first Google for Work Premier Partners and today we're also excited to announce a service that can be any Google for Work customer's super power.
Here in Austin, tens of thousands of people use Google for Work, worldwide over 6 million businesses are using business apps like Gmail and Google Drive, Calendar and more. Business adopt Google Apps for a number of reasons, mostly they see the opportunity to not only transform the way they work but transform and grow their business with Google for Work.
What makes some companies more successful in transforming and growing their business with Google Apps?
Google for Work Success Trends from January, noticed when we were making our Predictions for Google Apps.
1. Happy Hour for Apps
It's the golden age for Business Apps, startups, innovators and Austin's fastest growing companies. They're mobile, seemingly never "in the office" yet they're at the top of their game. The most successful businesses today are not only accepting change but embracing it - not ready for it, expecting it.
Highly successful companies are taking advantage of (exploiting) the capabilities of Google Apps and Cloud Computing.
My IT career began in the early 1990's so I've heard it all. Technology isn't always easy which can make for long days for tech support guys. In 2008, after a few years in Austin I started Coolhead Tech, focusing on Business Apps and Cloud Computing.
Recently,"Tech Support" has reached a tipping point. The support calls for help have turned into requests for features, integrations and improvements. There's not much for our support techs to fix so they help our Google Apps customers succeed. We're happier writing Google Apps Scripts and planning a Google Drive or Hangout Deployment than we were when we used to ask you to reboot and restart Outlook.
2. Rise of the Apps Admins
Google moves fast, as is evident in their almost daily releases of new features for Google Apps. The Cloud computing model allows for this continuous innovation cycle and businesses (and IT folks) need to keep up with the change.
1. There is a declining need for the legacy systems administrator role & break-fix IT model
2. The new Apps Admins have a greater role in Proactive Communication and enhanced Technical Support.
Apps Admins analyze new Google Apps features, Marketplace Apps, integrations, and core services like Cloud backup. Apps Admins help empower users to take advantage of the new technologies, keeping these businesses at the top of their game and widening their leadership gap.
It's Time to Go Google for Work with Super Powers
When you look at the current statistics and capabilities of Cloud Computing, It should come as no surprise that Austin businesses are starting to adopt Google Apps and cloud tech at record rates.
Coolhead Tech's Apps Admins are ready to give you super powers. We've earned Google's Premier Partner status for 2 years now, demonstrating our ability to continue adding new Google Apps Certified Specialists for Sales, Deployment and Google Apps Administration.
Coolhead's Super Powers - Google for Work
Proactive Communications

Daily Product Update Analysis
Business App Solution Projects
Add-on and Integration Analysis

Enhanced Cloud Tech Support

24x7 technical support
Support with Business Context
30 Minutes Apps Admin Guarantee

Cloud Advice and Consultancy

Google Apps Usage Guidance
Change Management & Training
Prioritized Business Goals
Heather Summers, our corporate use trainer, is now providing monthly public classes to new Google Apps Users. For Google Apps training onsite at your office or through webinar/hangout Coolhead Tech provides Google Apps training and certification prep for Apps Admins and end users.
While Heather's monthly class provides training and some business networking, we're migrating businesses to Google Apps every Friday afternoon. Some businesses are jumping right in since they're familiar with Gmail. Others are opting for Synergyse, an embedded Google Apps training App.
We're excited that so many Austin businesses are ready to do more with Google Apps. Our team is well trained, Certified and ready to help you succeed online and off.