Sign up for a Free 30 Day Trial of G Suite Business and get Free Admin support from Google Certified Deployment Specialists.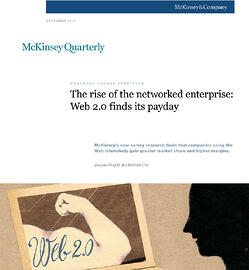 McKinsey's survey research suggests that organizations which use the Web intensively have more market share and get higher margins. It has been proven that today's era is marked by Web 2.0 technologies which are the main for high corporate performances. These networked enterprises use Web 2.0 technologies to connect to the internal efforts of employees and also to extend the organization's reach to its partners, customers and suppliers. The findings of the research also suggested that the networked enterprises are only more likely to be market leaders but also use management practices that can lead to margin higher as compared to those companies which use the Web in limited ways.
The survey of Web 2.0 use in companies gathered information from 3,249 executives across different regions, functional areas and industries. The respondents were asked:
About their patterns of Web 2.0 use.
About the measurable business benefits they derived from Web 2.0 use.
About the organizational impact of Web technologies.
About the market position of the respective companies of the respondents and if the market share changed as compared to their competitors in the same industry.
The findings from respondents are as follows:
Web 2.0 technologies are more widely used: it was found that the share of companies' where respondents report using Web 2.0 technologies like Google Business Apps continues to grow with time. 40% of companies now use more of social networking and blogs. Half of the employees in the companies use social networking.
A large majority of the respondents and their companies report that they are receiving measurable business benefits from Web 2.0. these benefits range from effective marketing, faster access to knowledge, reducing operations costs, reducing time to market for product/service, increasing revenues, reducing supply chain costs to increasing customer satisfaction, increasing satisfactions of suppliers, partners and external experts.
Companies which use Web 2.0 (around 79%) attained a mean improvement of 5 percent across a range of business benefit metrics. Whereas companies with lowest percentages report that the use of Web 2.0 is less integrated in their employees' daily work. The impact of using Web 2.0 touches companies: internally; processes became more flexible and employee communication became more effective and collaborative; and externally: benefits received by interactions spread beyond corporate borders through Web 2.0.
Executives reported that their companies captures a set of benefits from Web 2.0 investments, such as: market share gains, operating margin gains as there were more decision making internally in the organizations and number of teams increased, and market leadership of the companies that show high level of organizational collaboration due to Web 2.0 applications like Google Business Apps.
The research and its findings show that the business leaders of today have to acknowledge the fact that falling begin in creating internet and external networks can be a critical mistake. Therefore, the executive need to push their companies towards becoming fully networked enterprises. The research also suggests the steps that should be taken:
Firstly, integrate the use of Web 2.0 in the company's employees' daily activities and work flow. This addition will be a key success factor for all four analyses. The employees will use what is in their work flow and that is what will lead to great benefits.
Secondly, continue to drive adoption and usage with time. Where there is a base level of adoption and usage, the benefits appear to be very limited.
Thirdly, break down all barriers to organizational change. The organizations which are fully networked enterprises have more fluid information flows, deploy talent more flexibly in order to deal with problems and also allow employees to make decisions in the low hierarchy.
Lastly, apply Web 2.0 technologies to interact with customers, business partners and employees to gain market share and increase organizational flexibility and collaboration.