Sign up for a Free 30 Day Trial of G Suite Business and get Free Admin support from Google Certified Deployment Specialists.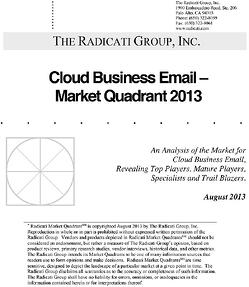 Google Apps is ranked 9 in Functionality and 1 in market share. Did Your Email provider make the quadrant?
Radicati Market Quadrants are created to visually explain how individual vendors fit within specific technology markets at a point in time. Radicati Market Quadrants are made of four sections which are as follows:
Specialists: this group involves two types of companies. First is the emerging players who are new to the industry and have not built up a lot of installed base – since they are in the process of developing their technology and strategy.
Trail Blazers: These are the vendors offering cutting edge technology, but still need build a large customer base. Greater awareness and more tactical marketing will allow these companies to easily move ahead of market leaders. The Trail Blazer's shape the future of technology with their innovations as well as the latest product designs.
Top Players: They are the current leaders whose products are dominating the market with a large consumer base to follow. The Top Players started off as specialists, then moved up to trail blazers before they arrived as Top Players.
Mature Players: They have large and mature installed base of customers, but no longer set the pace for their industry.

The Radicati Market Quadrant shows two features of the company:

Functionality: This is rated from 1-10.
Market Share: This is assigned according to the company's ranking.
The Radicati Market Quadrant covers the Cloud Business Email market since it is a very important component. It offers cloud based email and collaboration services which offer feature-rich service to all organizations. Cloud Business Email services might be based on a number of technology platforms, including basic POP/IMAP or others. The adoption of cloud based services among the enterprise organizations might gain momentum over the next couple of years. The Cloud Business Email providers are also positioned in the quadrant according to the two criteria of Market Share and Functionality.
With regard to the key market quadrant trends, Google, Microsoft, Silversky and Intermedia rank as Top Players in the Cloud Business Email market. Google offers Google Apps for Work which is a fully featured cloud suite offering email, productivity tools, cloud storage and document editing along with real time communications. Google Apps for Work was built from the ground up as a complete could-based service allowing organizations to avoid costly set ups and maintenance fees of desktop components accompanied with cloud email services. Google Apps is ranked 9 in Functionality and 1 in market share. Their key strengths are:
A recognized name building trust in investors.
Google has invested heavily in cloud infrastructure making it highly available.
Google Apps have consumer oriented visual styles.
Google Apps for Work provides organizations with very low subscription costs

Microsoft Office 365 is based on Microsoft's 2013 server technology which also includes Microsoft Exchange 2013, SharePoint 2013 and Lync 2013. Microsoft integrates SkyDrive and Microsoft Outlook Web Apps where it reigns in its popularity. Some of Microsoft's key strengths are:
All services guarantee 99.9% financially backed service uptime.
Microsoft Office 365 runs on 2013 server technology which grants the users extensive functionality.
They offer advanced security features like Microsoft Exchange Online Protection for anti-spam and other harms.
Intermedia offers highly customization services to SMB sector with its Office in the Cloud and its email related services. It also extends a choice of Microsoft services like Microsoft Exchange 2010, 2013, SharePoint 2010, 2013 and Lync 2010 and 2013 with varying functionality.
SilverSky combines the assets of USA.NET and Perimeter E-Security that places a strong emphasis on email security. They also offer Email Protection Suite providing advanced security features like email DLP, email archiving and much more.
Trail Blazers have the following services under its umbrella in the Radicati Market Quadrants:
NaviSite
Apptix
AppRiver
Ceryx
The Specialists include:
MindSHIFT
SherWeb
CenterBeam
While the Mature Players are:
Go Daddy
Rackspace
FuseMail