Sign up for a Free 30 Day Trial of G Suite Business and get Free Admin support from Google Certified Deployment Specialists.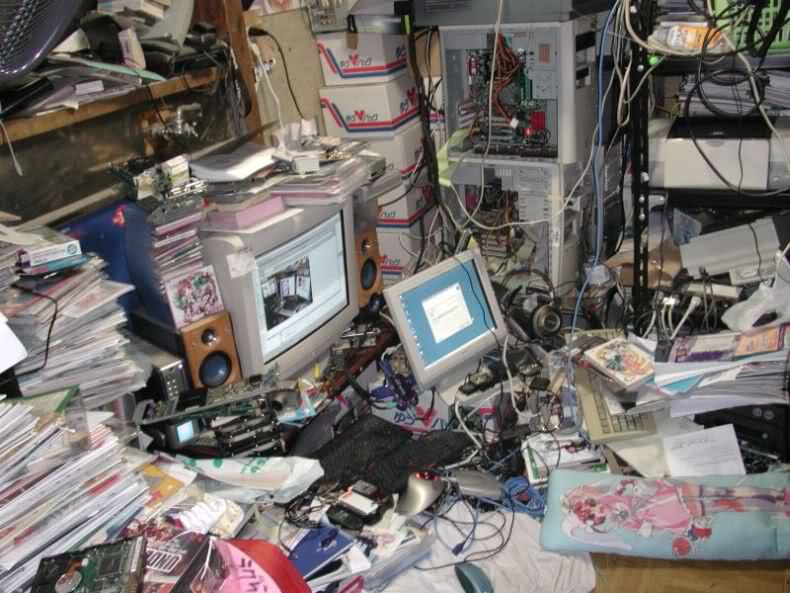 There are a number of options available when you want to join the millions who are using cloud storage. In the past, cloud storage was an expensive option used mostly by businesses but today even small businesses and consumers can get a reasonable amount of secure online storage for the low price of absolutely nothing, and for those needing a little extra, upgrades are economical. Not every online storage provider is the same, and each offers their own features that could sway you towards their service.
We're going to take a look at five of the most popular solutions and see what they have to offer. From Microsoft's OneDrive, to Google's Drive, and everything in between. Find out which is the best option for you.
"Most people have 20 GB's of free cloud storage that they are unaware of."
Google Drive 15GB – Free
We're big fans of the Google Apps service here. Both for business and consumers. When it comes to free online storage Google definitely has the upper hand. With 15GB free you have plenty of space to store photo's, documents, and all of your important files within the cloud. Google maintains what is effectively a 100% uptime (guaranteed 99.9% for businesses) and with the service you get access to all of Google's free productivity apps like Gmail, Presentation and Writer.
For ease of use Google sets the standard. If you're one of the millions using Gmail, you already have access to Google Drive. Google also offers seamless Drive integration on Android devices so you can easily access your cloud storage when you're away from the PC.
Box - 10GB Free
Box is another cloud provider who offers access to apps that can create documents, spreadsheets and even PDF's. Compared to Google their free offering has only 10GB, but it's still more than the rest of the services here. Box might be a name unfamiliar to most but they do provide a reliable solution. If you want access to their apps you'll need to pay $5 per month, but when you do your storage will be bumped up to $100GB.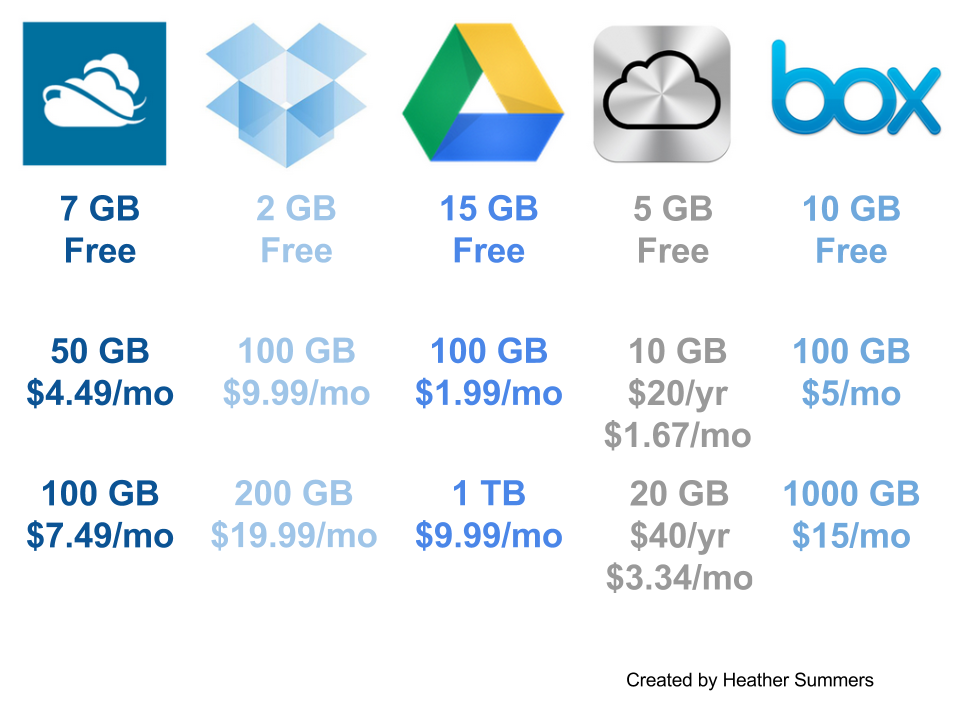 Microsoft OneDrive - 7GB Free
Next to Google, Microsoft is the next best online storage provider. Where they don't compete on price they make up for it in stability, and with their own suite of cloud productivity Apps. With any Hotmail or Outlook.com account you will get access to the 7GB free cloud storage along with free versions of Microsoft Word, Excel and PowerPoint. When it comes to extra storage, Microsoft's offering is the most expensive with 100GB running at $7.49 per month. If you're heavily tied to the Microsoft Ecosystem (e.g. Windows 8.1 & Windows Phone) this could be your best bet, since OneDrive forms a growing part of all of Microsoft's services.
Apple iCloud - 5GB Free
Apple iCloud provides a standard cloud service to all iOS users for free, allowing for 5GB of storage. Compared to the other options here the upgrade tiers are uncompetitive, with 10GB running at $20 per year and 20GB running at $40 (compare this to Google Drive which has 100GB for less than $24 per year). The other caveat is that you will need an Apple device to get going with the service. If you happen to be using an iPhone, iPad or an Apple Computer there's no reason why you shouldn't make use of iCloud. If you need extra storage however, both Microsoft and Google provide much more compelling upgrade packages.
DropBox 2GB – Free
DropBox has been popular for years with it's easy to join and simple to use service. There are even apps for every major smartphone platform letting you access the service easily even when on the road. Dropbox falls behind however in the amount of free storage it provides. For free you only get 2GB and the paid options get rather pricey with 100GB costing $9.99 per month.
As you can see, there are differences between all of the cloud storage platforms we've mentioned here, and these are only five of the most popular options on the market. When it comes to the big boys, Google and Microsoft, the difference between them might be the Ecosystem you're on. Sure Microsoft is more expensive, but if you're running a Windows Phone then it's the most compelling option. Likewise with Google Drive, if you're one of the millions of Android users then Drive is your best bet. Google's upgrade options are also the best out there, right up to 1TB which will cost only $9.99 per month.
Online storage today becomes more important as we take our productivity tasks in to the Cloud. Both Google and Microsoft are the frontrunners of this line of thinking, with both of them providing free productivity suites along with their cloud experience. If you're looking for a free option with no prejudice towards ecosystem then Google Drive is without doubt the best choice. Microsoft comes in at a close second with OneDrive, but as for the other three options they really can't compete, whether it's on price, or even feature parity.