Sign up for a Free 30 Day Trial of G Suite Business and get Free Admin support from Google Certified Deployment Specialists.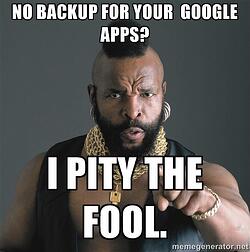 More space, please, to load this or store that! Off site data storage, including the cloud, responded to business demands for more online storage area. The new question isn't if you should backup these files it's how to have confidence in backups, and whether your organization's backup strategy is sufficient. Even if a person only understands a small portion of where their files are going, the basic business principle of having correspondence and business document backup makes nearly everyone aware that it is a highly desirable thing to have.
Consumers who are absolutely thrilled with the additional storage space of the Cloud come from all walks of life and represent a wide range of age levels. Not everyone has the time or the inclination to spend the time learning new computer terms, much less new systems. Tossing acronyms like SQL (Structured Query Language, which sets up instructions for updates, deletes, and information requests from databases) into a conversation or how-to may fall on deaf ears or result in glazed staring. Hiring a consultant that doesn't expect every client to know all there is about how to keep files safe is one way to develop confidence. The consultant typically explains the right way to run manual backups, how often it should be done, and exactly what it does to protect data and documents.
Another way to gain confidence in backups is by knowing the correct data is targeted for backup. Log files and database recovery provide the ability to restore data up to a certain point before a crisis. Referring to the log file for the date of the last backup either makes a client happy or terribly irked. Inputting an intensive report during the day and losing it because a power failure takes the system down before any of it was saved is irksome. A well-planned recovery system includes running back ups on projects like this at least once every hour. If data is accidentally deleted, it can be restored with minimal loss.
Your company's restore procedure should be tested regularly to be certain it is working properly and the right data is being saved. It also indicates whether there are corrupt files in the log. The only problem is that someone needs to be the responsible party for requesting the backup, and that is usually the client.
Are files, emails, calendars, payroll records, and other records stored in the cloud as part of your basic Google Apps package backed up automatically?

The answer is No. Additional programs are available at a nominal cost to add to the benefits of the Apps package. Coolhead Complete customers are covered by Spanning Backup for Google Apps which provides full data backups and redundancy to users, enabling them to quickly recover data.
Additional benefits to the backup program include it's anywhere management. The Apps Admin in your chain of command will appreciate the easy interface and comprehensive backup features of Spanning Backup. It handles the storage solutions of cloud computing and productivity by virtue of the industry leading cloud solution, AWS (Amazon Web Services).
Spanning lets you store as much data as you want at no extra charge. Enjoy the redundancy feature, which eliminates the wiping of data found elsewhere in your stored files. As the client, identify the time of day you want sites, Gmail, contacts, calendar, and drive in your secure private sector of AWS backed up. The process will happen automatically so the data can be retrieved if it is ever needed.