Sign up for a Free 30 Day Trial of G Suite Business and get Free Admin support from Google Certified Deployment Specialists.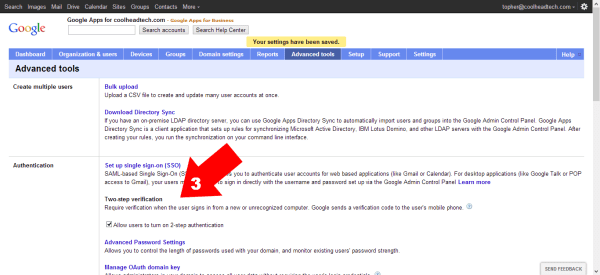 As a Google Apps Reseller we've helped and setup hundreds of domains for Google customers near and far. The setup process has gotten easier over the years and many IT admins that come to us prefer to have complete control over their Google Apps Domain.
Whether you are setting up your own Google Apps domain or working with a Google partner like Coolhead Tech here are 5 settings you should check when setting up Google Apps. If you already have Google Apps for business ask your IT administrator to double check this list to insure you have the best Google Apps setup you can get.
1. Hide All Ads for Your Google Apps Domain
Contextual Ads or not, Web Clips and Gmail Ads should not be displayed for a Business Setup of Google Apps. In the Apps Control Panel, click Domain Settings to see the General Tab, then uncheck the ads.

2. Automatically Enforce Secure Socket Layers (SSL) Connections for Gmail, Calendar,etc.
Our deployment specialist is still scratching his head trying to figure out why SSL is an option in Google Apps for Business. Enable SSL in the control panel just below hiding ads.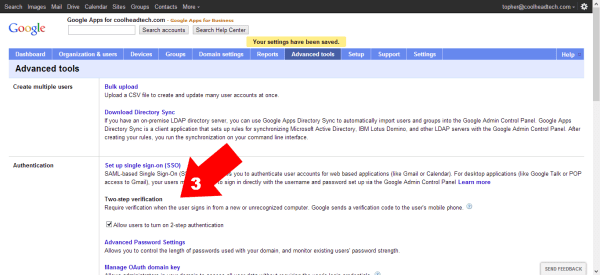 3. In Advanced Tools, Turn on 2-Step Authentication
As the name suggests 2-step Authentication in Google Apps provides a second layer of security. Device setup and use of 2-step auth can be difficult for some users but a must-have security feature for Google Apps users concerned with security.
4. Create a SPF Record
This setting is not in the Google Apps Admin Panel but with your Domain Registrar. You may need to ask your solution provider for help but you need to add this text to a new TXT record at Go Daddy, Network Solutions or wherever your domain name is registered.
v=spf1 include:_spf.google.com ~all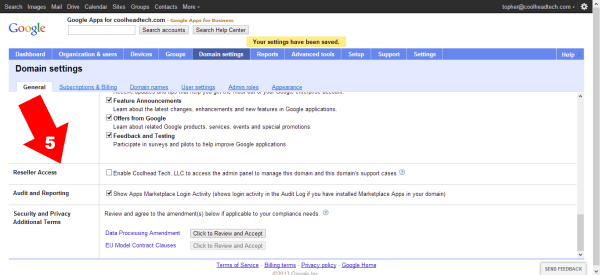 5. Turn off Reseller Access To Your Google Apps Account.
Unless your reseller is also providing systems admin for Google Apps there is no reason they should have access to your account. If your Google Apps Reseller requires access to your control panel, transfer your domain to another reseller. Coolhead Tech does not require access to your Google Apps Domain or any personal information beyond billing.
These are five simple steps you can take today to better protect your Google Apps domain. Just remember, security for Google Apps goes beyond the control panel. Coolhead Tech provides free Google Apps Domain Setup for Businesses in Austin. If you're an existing Google Apps customer you can transfer your Google domain to Coolhead tech and receive added service, security and support.