Sign up for a Free 30 Day Trial of G Suite Business and get Free Admin support from Google Certified Deployment Specialists.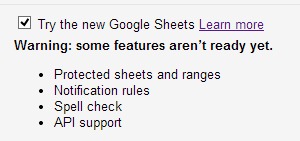 If you're one of those people like me who likes to maximize usage with your spreadsheets, whether at home or in the workplace, you really should give the new Google Sheets a look. Some considerable improvements over the prior version have been incorporated, and many of these enhancements were requested by users, so maybe that new function you were hoping for is available in this new version.If you haven't worked with it before, Google Sheets is an online spreadsheet application that allows you to create, format, and edit spreadsheets, alone or in conjunction with a team of others. While collaborating with your team, you can be in constant touch using the chat feature, thus increasing your productivity and enhancing the work experience. Another forward-thinking capability it has is allowing you to export a spreadsheet to your blog or to a website. Apart from these more imaginative concepts, it efficiently handles import of many file types like Excel, .csv, and .txt, and it can export in Excel, .csv, PDF and HTML format.
Top New Features in Google Spreadsheets:
Speed – the new spreadsheets load and scroll noticeably faster
Limitations on size of spreadsheets has been virtually eliminated
Increased complexity of formulas is now possible
Multiple filter views can now be created, saved, and applied without altering the view your colleagues have of the spreadsheet
Advanced conditional formatting can be applied to cell contents or formulas
Colored sheet tabs
Many new number formatting options, as wells as some new data formatting and currency formatting options
Paste transpose, which allows you to copy a row of cells and paste as a column, or vice versa
Enhanced capability for the Find and Replace feature – new dropdown box allows user to search the current sheet, all sheets, or a range of cells. You can also find and replace items inside formulas, rather than just values by checking the box next to 'Search within formulas'
New and Improved Functions:
Several of the most requested new functions have been added into Google Sheets – SUMIFS, COUNTIFS, and AVERAGEIF
Improved function editing tools that make it easier to create the right formula for your data. The function help box stays open as you enter data, so you can have support when you need it, and the autocomplete feature suggests functions as you type data.
Features Coming Soon to Google Sheets
Protected sheets and cells are in development, will be available in future
Spell checker
API support, which helps to manage the cells and worksheets in a spreadsheet
Several additional functions are being developed, and will be made available when ready
Notifications that alert you when colleagues have made modifications to your spreadsheet, and which cells have been modified
Being Phased Out of Google Sheets:
Web clipboard – it is expected this will be replaced by a better version
Solver – same as above
Special autofill using Google Sets
Google Tournament function
Considerations when Switching to the new Google Sheets:

Once you switch over, all new sheets will be created in the new version
All previously created sheets will remain in the older version of Sheets for the time being
Some features available in older Sheets are not yet available in the newer version of Google Sheets

To enable the new Google Sheets you will have to :
Open Google Drive at drive.google.com
Click the gear menu at the top right of the screen and select 'Settings'
Click the Editing tab
Select the checkbox next to 'Try the new Google Sheets'
This new Google Sheets has a lot to offer – if you liked the older version, you are sure to want to try this newer, more capable application, either for solo projects or when you have a team project to accomplish.