Sign up for a Free 30 Day Trial of G Suite Business and get Free Admin support from Google Certified Deployment Specialists.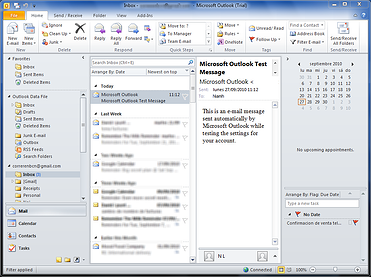 Ardent Microsoft Outlook users perceive the use of Gmail as a paradigm shifting move, while in reality it can never be simpler. Microsoft Outlook brings a lot of functionality to users around the world, but it is matched and exceeded by Google Apps features, which extensively support the use of Outlook with Google Apps.
Enabling Seamless Functionality
Google Apps makes it easy for Microsoft Outlook users to migrate services to Gmail, Calender, Contacts, Outlook Notes, Journal Entries and Tasks. Using a utility called Google Apps Sync, the services that were once supported through Outlook Exchange or another mail server are migrated to Google Apps so that the Microsoft Outlook user does not feel the break in previous services. After the sync is completed, it becomes possible to use Outlook with Google Apps for email services, Calendering, Contacts and Tasks. This essentially means that a Microsoft User can utilize Microsoft Outlook and Gmail interchangeably without losing critical information in the process.
Google Apps Sync collects all the emails and their folder arrangement in the Outlook archive and delivers them to the Google Apps storage for access and archiving through Gmail. All calender entries, tasks, notes, and contacts are also delivered to the Google Apps storage. Once this has been completed, the user can continue to use Outlook with Google Apps as if nothing had changed.
Accessing Unsupported Features in Outlook
As it would be expected, not every function on Microsoft Outlook is supported when you use Outlook with Google Apps. The lack of support does not mean the lack of said service, but because of proprietary differences, the services can be accessed on Google Apps exclusively with ease through the Gmail Interface.
Outlook features for Recovering Deleted Items does not work on the Outlook Interface; it is not supported through Google Apps Sync. However, Items moved to trash on the Gmail Interface can be recovered through the web service.
Folder Permissions for sharing with other users cannot be set in Microsoft Outlook. This is because folders are stored on Google Apps as Labels, which have no permission settings. While one would have been able to send executable attachments on Outlook using other email servers, the feature is not supported on Google Apps. This is also the case for encrypted executable attachments. This is an added security feature that protects users from malicious attachments. While it is not possible to use read receipts on Outlook, it is possible to get a response when the message has been read.
Out of Office service on Outlook does not function with Google Apps Sync, but it is available on Gmail as the Vacation Responder, which has far more superior features like auto scheduling and selecting recipient groups. Recalling messages is a feature that has been on Outlook for quite a while. Google Apps cannot recall sent messages, instead the recipient gets a message that the referenced message which they will have received was meant to be recalled.
One cannot delegate contacts on Outlook, though you can do so using the Google Apps Gmail interface, which allows one to provide access to others to manage their contacts.
Conclusion
Google Apps not only brings mail functionality through the Gmail web interface, but it integrates seamlessly with Outlook to bring the all familiar utility that Microsoft Outlook presents; while there are some features on Outlook that are incompatible with Google Apps, it is not to the degree that the Outlook user loses the services they desire when they use Outlook with Google Apps. The same features are supported and availed in Gmail, the interface for email in Google Apps.