Sign up for a Free 30 Day Trial of G Suite Business and get Free Admin support from Google Certified Deployment Specialists.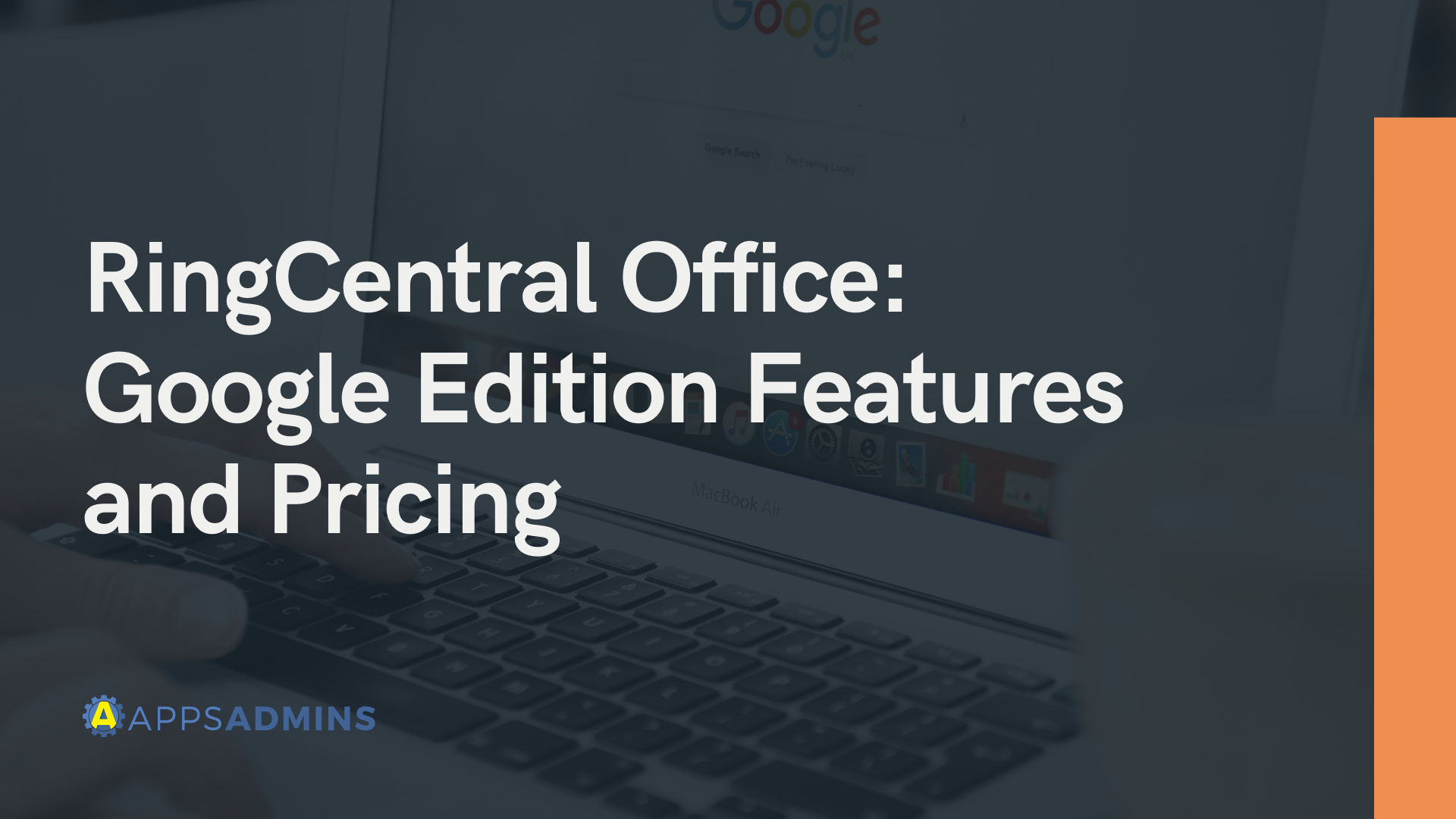 RingCentral is one of the most prominent cloud phone system vendors in the world. The entity is recognized as a Gartner Magic Quadrant leader and trusted by over 350,000 enterprise customers. It offers a communications solution that integrates with Google Workspace (G Suite) apps, which is used by many businesses daily to boost productivity and collaboration.
RingCentral Office's Google Workspace (G Suite) Edition allows organizations to dedicate more time to key operational issues by combining communication tools. Teams can make voice calls, listen to voicemails and send text messages without leaving the Google Workspace (G Suite) ecosystem. The solution cuts cost by eliminating the need to invest in expensive communications equipment.
It provides these benefits without undermining the quality of service and scalability. Thus, the phone system can grow in tandem with the business. The entire system can be set up and activated in a matter of minutes.
Easy to Manage: RingCentral Office Google Workspace (G Suite) Edition
The service offers an impressive array of innovative features that help businesses of all sizes portray a professional image. Companies can gain access to more advanced features by upgrading packages.
With the Google Workspace (G Suite) Edition, entities can welcome callers with professional-sounding promotional messages, on-hold music and greetings. In addition, the system makes it easier to incorporate an internal phone directory and route callers to the appropriate extension or phone number. The directory helps reduce customer waiting time and improve the overall experience.
The edition is compatible with a wide variety of platforms and devices. Calls can be transferred between devices with just a click. The RingCentral mobile and desktop apps enable teams to engage in voice communication, send texts and attend online meetings.
Overview of RingCentral Office Google Workspace (G Suite) Edition Features
Hangouts extended to include audio conferencing

Automated call recording

Voicemail-to-email

Online meetings

Internet fax

Collaboration

Call monitoring

Secure VoIP Service
RingCentral Office - Google Workspace (G Suite) Edition Pricing plans
The RingCentral Office Google Workspace (G Suite) Edition offers an affordable pricing plan that is loaded with advanced features. The package provides access to round-the-clock support and free implementation services. The later applies to business customers with at least one or two RingCentral users.
Key benefits of using RingCentral for Google
Boost the number of participants in Google Hangouts
Faxing via Google Drive and Docs
Integrate Google and RingCentral contact lists
Schedule meetings with via Google Calendar
Access communications history in one place
Auto-dial private RingCentral conference line via Hangouts
Make calls and send business text messages within Gmail
Record Hangouts sessions
Define answering rules to route calls based on a number of variables, including type of caller, time of day and number dialed
Editorial and Analyst Roundup - RingCentral Office, Google Workspace
(G Suite) Edition
Here is what analysts have been saying about the RingCentral Office Google Workspace (G Suite) Edition:
CNET – RingCentral helps businesses portray a professional image with an advanced phone system. The service makes it easier to set rules for handling incoming calls or routing them on the fly. Companies can control calls via the desktop.
PC Mag – RingCentral offers a true cloud-based phone system that is set up and managed online. The initial configuration is carried out using an online script.
Gartner - ''Pricing is best in the business and easily half the cost of the nearest competitor. The potential to be a single solution globally is very interesting.''
Want to learn more about Google Workspace and RingCentral? Reach out to Apps Admin today for more information!