Sign up for a Free 30 Day Trial of G Suite Business and get Free Admin support from Google Certified Deployment Specialists.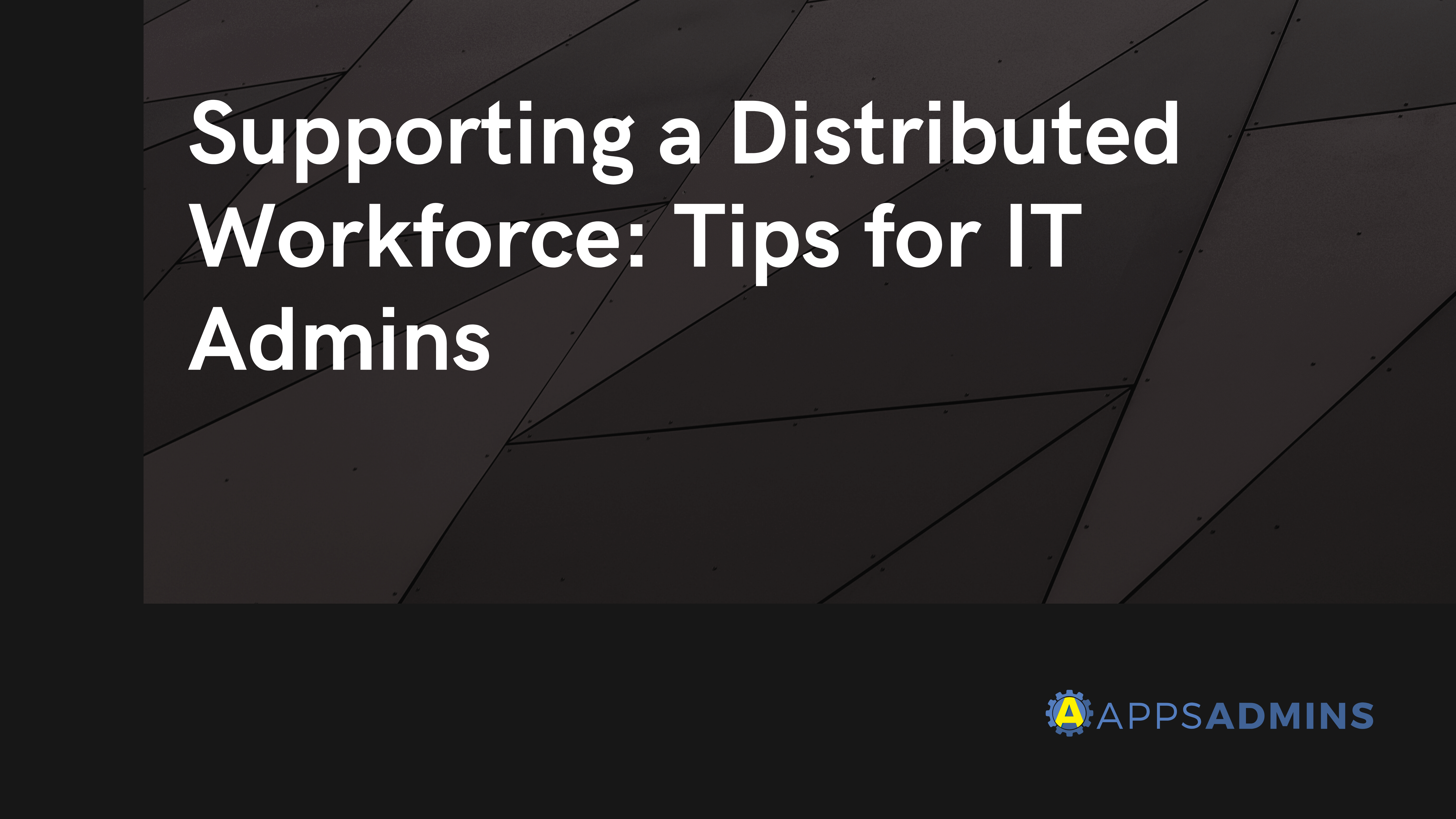 The world is changing at an incredible pace. As the novel coronavirus continues to spread, many organizations around the world are encouraging people to work from home and reduce the risk of a further outbreak. Even before we had a global pandemic to think about, a distributed workforce was becoming increasingly common.
Around 8 million people in the US are already working from home full-time, and the number continues to grow. After issues like coronavirus are no longer a concern, there's a good chance that many companies will continue to support remote working strategies, so that they can tap into the benefits of higher productivity, employee satisfaction, and morale that is created.
If you're wondering how you can take advantage of the rise of remote working, then you've come to the right place. Here, we're going to discuss how the IT admins leading the charge for the new workplace can make the remote environment as productive as possible for their teams.
Here's what you can do to keep your entire workforce operating smoothly, no matter where your employees might be.
Outline the Basics
The first thing to note is that all remote working businesses need a strategy. You can't just hand your employees a Chromebook and expect them to operate at home like they would in the office. Expectations need to be put in place. Some of the people on your team will be comfortable moving immediately into the remote working environment, others will need some help separating the home and work spheres.
If your team members haven't had a chance to work from home before now, then there's a risk that some of them could end up getting distracted, and their motivation might dip. On the other hand, you may have people on your team that ends up burning themselves out, because they struggle to "clock out" and leave the office behind them at the end of the day.
Putting a basic structure in place could help your employees to stay on track. This could mean setting a time each week, where everyone in the office is expected to turn up for a group meeting. On the other hand, you could decide that you're going to ask your team members to let you know which hours they'll be working at the beginning of each day.
Remember, since flexibility is one of the core benefits of remote working, you will need to give your employees some leeway. Providing people with the opportunity to change their hours and schedules when necessary could help to improve team satisfaction.
Put the Right Tools in Place
Once you have the basic guidelines in place for things like work expectations and schedules, you can start working on making sure that your employees have the tools they need to thrive in a remote work environment. The cloud opens the door for various office-based assets to be accessed from home. You may already be familiar with things like Google Docs for sharing files on the web or using Google Drive for saving your content.
Implementing strategies for remote collaboration is particularly important. In a time when your employees won't always be able to meet face-to-face, collaboration tools mean that they can communicate just effectively with instant chat and video calls. Hangouts Meet is one of the tools provided by Google to help people stay connected when they're working remotely. Indeed, in time for the coronavirus pandemic, the Google team announced that companies can now access the more advanced enterprise features of Google Hangouts Meet for free. G-Suite and G-Suite for Education customers can now access more Meet settings than ever to keep their employees engaged from a distance.
Thanks to this new access, businesses of all sizes can unlock larger meetings with up to 250 participants in each call. There's also the option to live stream for up to 100,000 users in a domain, and record meetings and save them within the Google Drive environment too. Those features used to be available exclusively to people in the Enterprise edition for G-Suite, and Enterprise Education. However, they're currently available for everyone for free until the first of July 2020.
Deliver Information at Scale
Remember that your employees are going to need different levels of support when they're getting used to their new remote working lifestyle. Google offers opportunities for companies to create internal sites where they can share critical information. These enterprise-level knowledge bases make it easier for employees to access all of the guidance that they need when working from home.
For instance, when you're communicating new changes to potential remote-working policies, you could create an internal business site that offers answers to frequently asked questions. You could also populate your site with tutorials on how to use products. Some companies will also offer best-practices on how to work more efficiently from a remote location.
Tips and guidance on how to use everything from collaboration tools to shared drives could help to eliminate many of the roadblocks that prevent companies from taking full advantage of the current remote working landscape. What's more, within the Google environment, there are plenty of sharing options available to help you to deliver the right information to your audience in the best possible way.
Deliver Learning and Development Options
Speaking of empowering your employees to accomplish more in the remote environment, don't be afraid to offer them the training and guidance that they need. According to surveys from Deloitte, around 70% of employees say that they want their management companies to support better work-life balance opportunities. Additionally, another 60% of employees want to be able to access a range of remote working solutions too.
For organizations, a Digital Learning and Development strategy could help to encourage a culture of ongoing learning and growth when employees are working from home. Providing your team members with documentation on how to use the latest Google features, could help them to be more efficient as they work away from the office.
Make sure that as you're offering these learning and development opportunities, you're also monitoring how they're affecting your business users on a larger scale. Analyzing the trends in things like technology usage could help you to identify which teams need the most training and assistance. You might also unearth something that certain groups are doing differently to accomplish more goals than the rest of your organization.
For instance, you can access the Meet Quality Tool within your Google admin console to assess how meeting participation is going in real-time.
Ensure You Have the Right Corporate Policies in Place
Companies embracing a new remote-working environment will also need to think about the atmosphere that they're creating for their teams, with the current circumstances of the landscape in mind. For instance, the ability to provide remote support and deliver management for Chrome devices remotely could help employees to stay up and running while mitigating risks if a corporate device ends up getting lost or stolen.
If you have access to context-aware solutions applied to different groups within your organization, then you may need to consider those too. For instance, you might only allow individual employees to access Gmail when they're not connected to the corporate WiFi network. However, you may need to change those settings so more people can log in when they're working remotely. The good news is that you can still secure your environment by enforcing browser policies for your users that aren't on the corporate network.
You may also need to update your organization's strategies when it comes to distributing tools and hardware to your team members. For instance, you might need to replace your employee's device, but your company could have a policy of not shipping products to an employee's home. If that's the case, you'll need to reconsider how you're going to get essential hardware to the people that need it to stay efficient and productive from a distance.
Respond to your Company's Needs
One important thing that you'll need to keep in mind when you're designing a remote working strategy, is that it's important to maintain company culture wherever you can. You still need to listen to your employees and celebrate the things that they achieve from a distance. Make sure that the people in your team aren't out of sight and out of mind.
As well as making sure that your team members are getting the job done, you also need to ensure that they feel comfortable with the tools that they have to accomplish their goals. Getting regular feedback from your team members about how well they're doing in their current landscape could be an excellent way to determine if you need to make changes to the strategies that you have in place.
At the same time, it's important to ensure that you're protecting the wellness and well-being of your employees by keeping them up-to-date on what's happening within the business. Host regular gatherings where you check in on your employees and make sure that they're still doing okay. If something major changes in your company, then host an open forum where your employees have a chance to ask questions.
Stay Up to Date
The technology landscape for remote employees is growing more advanced by the moment. We're rapidly seeing the introduction of new tools and solutions to make the global workforce more productive, no matter where their team members might be logging in. Google and other significant companies often host events where you can go and check out some of the latest tech.
For the time being, many leading tech conferences have been canceled to protect the well-being and health of the community. This has been the case for the upcoming arrival of Google Cloud Next – the conference where most people go to find out what's coming up from the leaders in cloud technology. Though the Next event has been canceled, Google has said that it's planning on transforming the event into a digital-first experience.
This means that everything we know and love about the Google Next conference will be transformed into a multi-day event filled with streamed keynote sessions and video interactions, rather than face-to-face conversations. Because of this, it's still possible for business leaders and IT admins with a Google environment to check out what's happening next in the Google landscape.
Staying Connected with a Remote Workforce
Embracing tools on the cloud, like Google Hangouts, Meet, and Drive are just some of the first steps in creating a remote working environment that's designed to support the productivity of dispersed teams. For employers to truly tap into the full potential of their distributed teams, they need a more comprehensive plan in place. This means creating a plan for how your teams are going to schedule their days, assisting with things like finding the right technology and supporting your employees by listening to their feedback.
Monitoring each step of your remote working roll-out and responding to what you learn will help you to optimize your team as you go.
While it's impossible to predict what's going to happen in the world in the weeks and months to come, we can see from the trends around the world that the demand for remote working isn't going anywhere. Pandemic or otherwise, employees are going to continue to want the support of their leaders to work from more flexible and mobile environments going forward.
If you haven't started to implement a strategy for remote-working and a distributed workforce yet, now is the perfect time to get started, with a little help from Google.
Reach out to Apps Admins today to find out what you can do to create a vibrant distributed workforce with Google technology, while still keeping your business safe.